When Lauren reached out to us last year about catering  her wedding reception, we got to work straight away planning her perfect meal package. It is such an honour every time we are asked to cater a wedding, as we know how important this day is for everyone involved! Lauren had the winter wedding of her dreams with her husband Ethan, surrounded by their close friends and family.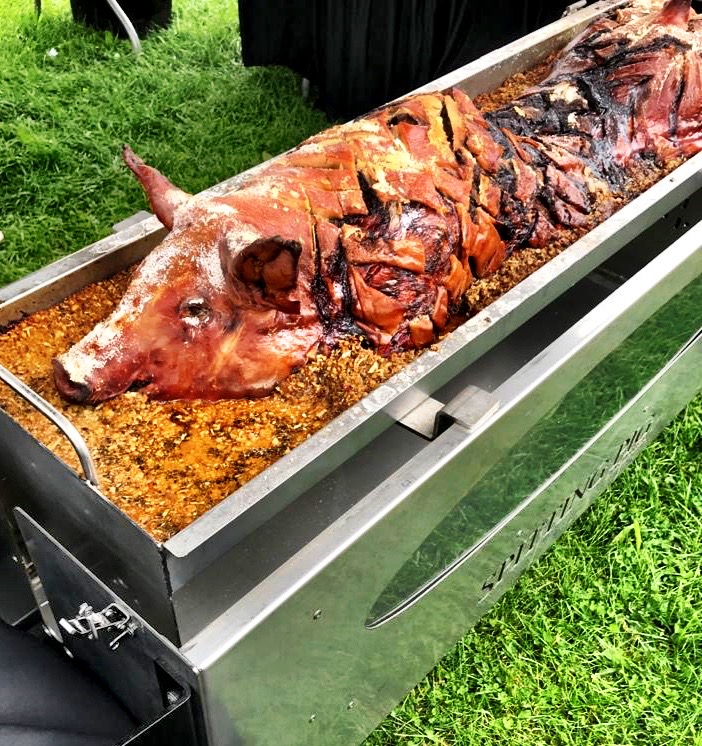 Lauren's wedding ceremony took place at noon, with the couple wanting their lunch served at 1 pm. We arrived at the site of the reception early that morning to get to work roasting our hog, making sure it was tender and juicy. The hog was served to the guests by our waiting team, accompanied by a range of seasonal vegetables and side dishes. The guests were impressed by our catering set up and loved seeing their meal prepared so close by! The meal went down a treat and was enjoyed by all, along with a glass or two of champagne.
After the lunch had been eaten, the guests enjoyed the entertainment and celebrated the special day together. Lauren had opted for a small evening buffet as well as the formal lunch, to keep their guests dancing into the night. For the buffet, we provided a range of bread rolls served with warm meats, including pork, chicken and lamb. The rolls were served with a variety of side salads and were on offer all evening for the guests to graze on.
It was then time to cut the cake! Lauren had provided her own wedding cake for the event, which we served up to all the guests at the party before we began to pack away our equipment. After a wonderful ceremony and a night to remember, all the guests began to depart with extra cake and leftover bread rolls from the buffet.
Are you planning a wedding for 2022? If so, get in touch today to book your date! We work hard to give you the wedding of your dreams, so you have nothing to worry about.