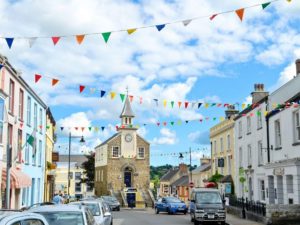 The wonderful, small market town of Narberth can be found just east of Pembrokeshire in spectacular Welsh countryside. This quaint little place with a population of only around 2,000 people looks just like something off a postcard. Here you will find winding streets of Edwardian multi coloured buildings which are today transformed into independent shops, businesses, pubs and restaurants alike. What a fantastic place to be able to base a business! What's really special about this hidden gem is it's great transport links to the nearby larger towns of Tenby, Carmarthen and Cardigan meaning you can just hop on a train for a wonderful day out in Narberth when you feel like getting away from it all. Such visitors can take a trip to Narberth's spectacular castle remains, the nearby adventure park and zoo or visit during one of the town's major events including the 'Big Plant Sale' and Narberth carnival.
Leaders in our Field
Hog roasts were once the food of choice at carnivals – I expect this was due to their ability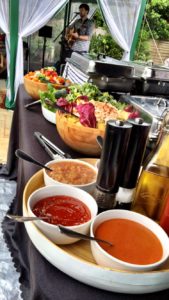 to feed such a large amount of people without taking up much space and the fact that it looks rather spectacular too. Did you know that one of our large pigs can feed up to an impressive 300 people? What a great way to be able to feed a large amount of people at an event of any kind. Don't worry though, if your party isn't quite as big as that we have a size to suit you. Just let us know how many guests you have and we would be more than happy to advise you on which size hog roast is most suitable. It all depends on the type of menu you require! We can cater for large groups with hog roast sandwiches on freshly baked bread rolls or if you prefer a sit down, plated meal, your meat will serve a little less people as the portion is larger but don't let that shy you away from paring this delicacy with some very special side dishes.
So, if you require a caterer who is able to create some amazing, high standard food cooked by our expertly trained chefs, Hog Roast Narberth could be just the team for you!