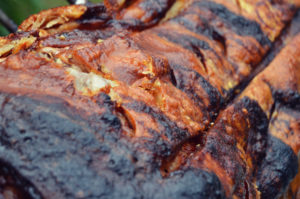 Being a hog roast caterer in Wales is an interesting occupation to say the least as there aren't all that many other companies around Abergavenny. Hog roast Abergavenny itself serves the area and local surroundings. We come to you with all the equipment you will need for the event or occasion. We supply the oven, the hog and all the utensils you need to make your day go well. If you require, we can supply staff to help out with the operation of the oven at your event. If this service isn't required and you are new to the whole hog roasting experience, we will show you how everything works when we deliver everything to your door. We even help set up and get you going before your occasion gets into full swing! Even our ovens are designed with regular sized doors in mind, so we won't get to your house and find we can't get it into the garden because it's too wide to go through the door at the back of your garage or through the side entrance!
The Best Hog Roasts In Abergavenny
The population of Abergavenny where we are based is just a little over 14,000 people so our service does well due to the amount of people holding different kinds of events looking for a hog roast Abergavenny such as those mentioned above. Because we are centrally based in the town, it is easy for us to get to every part of the town where our services are required. Because Abergavenny has a reasonable size population the local people make good use of our services, as a tradition locally is to have a hog roast at large gatherings of people whatever the occasion may be. We not only cater for private functions, we also hire our services out to Corporate Companies as well, for events they hold throughout the year around the town. Not only do we supply the hog, but we also supply other side lines as well to complement our main line of hog roasts. Our main side lines are salads, pastas and drinks (both hot and cold) which will be close by where our actual roasting oven is, so we try and cover most bases one way or another.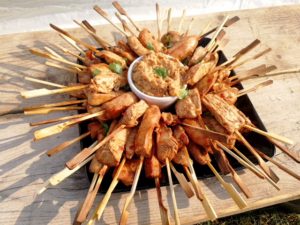 We take bookings 24 hours a day, 7 days a week. Either call us using our telephone number and we will take your booking that way. Leave a message on the answer phone if it is outside office hours. Visit our website and fill in our "Contact Us" form, or e-mail us. One way or another, we will get back to you quickly to see how we can help you .We are based in the Abergavenny area of Wales which is in the South Wales region in the county of Monmouth. We cater for all manner of occasions, such as weddings, birthdays, anniversaries or even if you are just having a gathering of family and friends round for a barbeque.