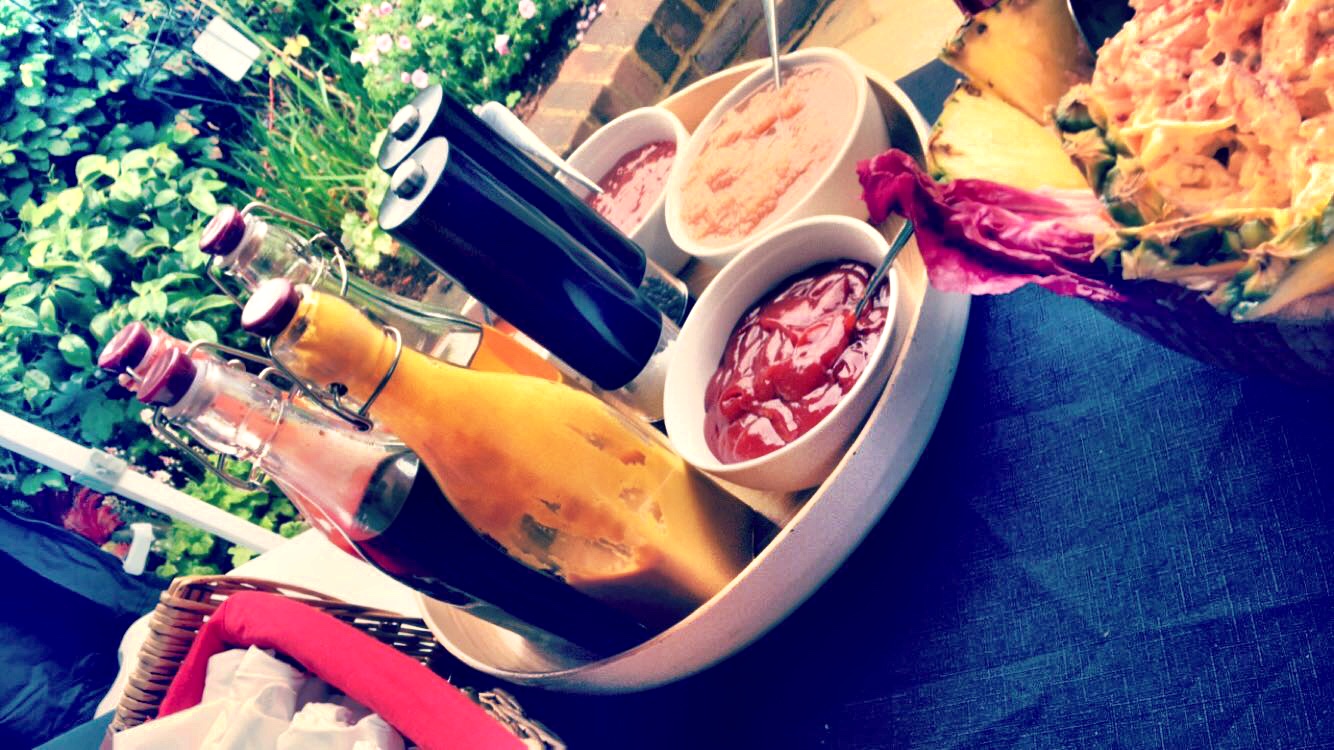 If you're in Wales and looking for a great hog roast in Carmarthen, hog roast in Builth Wells or possibly a hog roast in Swansea and looking for something a little more than the usual then you're in good company, as we feel just like you and we've had the pleasure of catering for many customers who feel the same way. Good food is ever rising in popularity and many of us make the effort to cook decent food, even in spite of increasing food prices and a stagnant income.
We believe that a party should be no exception and, if anything, should set the standard for great cooking. Holding true to our beliefs we set out to create menus and party options so that our famed hog roast catering is a viable option for your party, and not out of financial range like so many other catering options that are out there. The party catering that we can provide for you is low in price but loses nothing in regards to quality; you'll receive a service that's as good and impressive as our most expensive and extravagant. Our Hog Roast Pembrokeshire team have a lot of options for parties and we're sure that one of them will sound right for you, but not to worry if not, as we're also willing to help you create your own menu and service that's tailored for your own needs. Below are some of the set menus that we have for general parties:
Classic Menus Specially Designed
The most simple is our hog roast or snack in a roll party menu option. The hog roast in a roll service is a hog roasted pig that's cooked to tender perfection over a number of hours and served with our own special apple sauce, stuffing, a crowd pleasing crunchy crackling and soft floured white rolls. This menu option comes with a chef, a table, tablecloth and napkins. The snack in a roll is similar in service but you're given an option of animals to pick from, these options include: Pig, Lamb, Turkey, Chicken, Roast Beef, Burgers & sausages or Chicken kebabs and meaty marinated spare ribs. As with the first menu all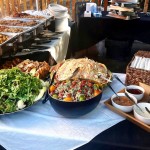 come with an option of sauce, stuffing, floured rolls, tables, tablecloths and your own chef to prepare and serve the food. If all that sounds rather too simple we have menus that are a little more expansive and adventurous. The 3rd set-menu option is a combination of the meats above, with two freshly prepared salads and warm new potatoes in a herb butter. The food is served as a buffet and includes serving tables, crockery and napkins, as well as the standard Hog Roast Pembrokeshire chef who will cook and carve the food, and then clean up afterwards so that the site is as it was when we arrived. There are 3 more set-menu options for parties, all of which more extravagant and varied as the menu before.
Hog Roasting For Any Type Of Celebration
A hog roast is a fantastic choice of outdoor catering for any event. Whether you're holding a family gathering, a birthday party, a charity event or any form of celebration in Wales, a fresh and succulent hog roast will provide a great alternative to tired party foods and a wonderfully traditional touch to the festivities at any time of year.
A hog roast isn't only for large events either! A smaller gathering can become beautifully cosy as our friendly staff serve your hungry guests an informal buffet style feast. Alternatively we offer a full DIY Hog Roast Pembrokeshire service, we'll provide you with our excellent catering equipment, training and all the supplies you'll need to prepare the food, so you can impress your guests with the juicy roast you've prepared yourself! Or perhaps you'll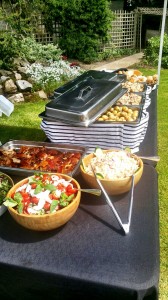 discover that holding a Hog Roast is one of the very best way by with you can raise funds, either at a charity event or for a personal cause, selling juicy roast hog sandwiches is a great mode of fund raising, and we'll sure that you won't receive any complaints as to the quality of your products. Served simply as a roast with our range of fine sauces on baps and baguettes or with a selection of delicious sides, from cooling salads in the summer to warming roasted vegetables on a cold winters evening, the accompaniments to the delicious roast can be a tasty as the Hog itself. Although of course the roast isn't limited to the classic hog, we can supply great alternatives such as beef, lamb, wild boar or other speciality game. The Roast itself provides a wonderful visual centre to any event and a comforting rustic conversation point for your guests or patrons. We are an experienced catering company based in Wales and can provide outdoor catering for any number of guests, all provided by our professional and friendly staff using our excellent equipment and stock from refrigerated vans which are equipped with the latest in satellite navigation technology so everything goes off without a hitch on your big day. Our lush roast is prepared to the highest standard so you know you're getting the best, we conform to the strictest health and safety regulations in our catering as demonstrated by our food hygiene certificates, our food handling certificates, public liability insurance and our C.E. Approval certificates.
[peekaboo]
[peekaboo_content]
The Hassle Free Catering Solution
Our commitment and years of experience in Wales will ensure that the catering at your event will be professionally managed and provide an ample supply of brilliant food for your guests! Book your fantastic Hog Roast Pembrokeshire today. You can find out more about the Spitting Pig menus by visiting the menu page or enquiring either through the internet enquiry form, Email or telephone. With our many party menus you'll always receive great food at good prices, with plenty of possibilities and options to choose from. We hope this all sounds as good to you as we know our catering is and look forward to hearing from you.
When it comes to Catering Spitting Pig Wales are second to none. When it comes to catering we understand that no two events are the same. Just like our customers each and every event must be treated individually and priced accordingly. As we have such diverse experience we are certain that we have a menu package that's just what you have been looking for. Whatever the reason for your enquiry, whatever style of feast you want to create and most importantly whatever budget you have we can provide just the thing that you have been searching for. Although we are famous for our spectacular hog roasts this is not all we have on offer. We are also experts in barbecue catering and can supply a first class barbecue full of your favourite meaty treats, perfect for the summer season. We also have a wide range of other tempting meats available for you to try. Perhaps you fancy a traditional welsh lamb roast with all the trimmings, or spit roasted turkeys for a festive event? All this can be brought to you by Spitting Pig Wales.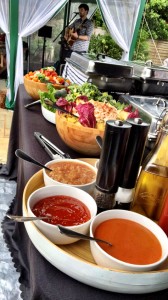 ales is a country with vast amounts of our land given over to agricultural use and luckily for us this provides us with an abundance of quality products growing on our doorstep such as fresh fruits and vegetables. Also some of the finest cheeses are sourced here and not forgetting the welsh farmers who provide with the finest organic pork, lamb and beef. We are lucky to be based in a country that sources so much quality food and our catering team takes full advantage of these local delights and stays true to their roots by using them to create the menus for our customer's functions and events. No processed, imported goods will do and you will not find anything in our dishes that doesn't meet our high standards.
We take our work seriously and put out all the stops to bring you the tastiest food so you get maximum enjoyment at your function.
We have travelled the length and breadth of Wales during our times as hog roast caterers and have catered at a wide variety of events. Large functions in Cardiff and Swansea including charity events and food festivals with thousands of hungry people to feed. At the other end of the scale we have visited delightful Welsh villages and cooked for 30 or so guests for more quiet intimate occasions. Thanks to our extensive experience in the food industry, the hard working team and our welsh heritage we will bring you only the finest Swansea and Cardiff hog roast.
Finally the best thing about us is that we don't just stick to our sample menus we are always looking for new ideas and love the challenge of trying out something different. So as the customer please feel free to share your dream dinners with us we will do our very best to bring your ideas to life so that you enjoy your ideal feast while we do all the hard work for you.
[/peekaboo_content]