Welcome to Spitting Pig Wales, if you're in Wales and looking for a top class Carmarthen hog roast caterer you've come to the right website. My name is Cliff and along with my lovely wife Gemma I run Spitting Pig Wales.
Our Farm
Ffos Yr Ewig is a 40 acre farm nestled in the beautiful Llanfynydd valley, in South Wales. At the heart of our farming is the welfare of our animals, our animals are all free range, our cows graze in  the pastures, our pigs have over 20 acres of woodland to roam in. The land is a mixture of pasture & woodland supporting a small herd of Jersey cows, rare breed pigs, Jacob sheep, Indian Runner ducks & chicken. Our methods of farming combine a mixture of traditional, organic & permaculture techniques alongside elements of high technology systems. The chicken & ducks have freedom to roam a
round the farm house & gardens under the watchful eye of our dogs (and protection from the foxes!!)
We minimize the use agricultural vehicles (we have a 1950 Ferguson tractor) with the majority of the work being done by hand. We don't use any form of chemicals or sprays, everything is organic. We have embraced technology with the use of solar panels & a biomass boiler system that provide all our electricity and heating needs. In addition to this we have a hydroponic 'sprouting fodder' system that produces over 80 kg of fresh feed for our animals every day of the year.
We have recently added an aquaponics system – producing large quantities of salad, vegetables, fruit and tilapia fish.  The heat from the biomass boiler system allows us to create a  'tropical' environment enabling us to grow salad & veg all year round.
The pig breeds we keep are middle whites, welsh & saddlebacks, all are rare breeds and producing amazing tasting meat, very different from mass produced, intensively farmed commercial animals. The pigs are allowed to develop at a natural pace, living outdoors, eating a natural & varied diet and getting plenty of exercise. This has the result of producing succulent, tender & tasty pork.  Not only does the meat taste fantastic but the crackling on the joints is something to be believed, scored to produce that crisp tantalising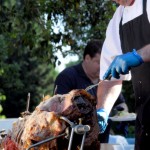 taste.
To capitalize on the quality of our pork, we produce all our own pork products in our registered butchery. Our hand made sausages are truly stunning, producing Cumberland, Lincolnshire and Garlic & Herb sausages with a 90% meat content. Our bacon is selected from the best part of the loin to produce succulent, tender home cured bacon, you can't buy bacon like this in the shops!
So you can rest assured if you choose Hog Roast Wales you get the very best in meat quality & service. I've been running the company for many years now I started it after starting to breed my own pigs on our small holding near Carmarthen. Having breed some fantastic quality pigs with an exceptional taste I needed a good route straight to the horses mouth so to speak. And what better way than hog roasting in Carmarthen. I've always been a bit of a barbecue addict and decided that would be what we did; but it was sheer luck that led me to where I am today. Hog Roasting I always expected to be a side service, something we offered as a novelty, a niche of sorts… It didn't take many client jobs to realise that more than anything the spit roast service we were running was so tasty and the pigs of such a high quality that the hog roasting completely took over our catering company and now this is what we specialise in.
An Ever Expanding Industry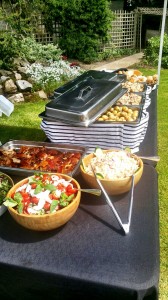 It quickly became apparent that there was a huge demand for a Carmarthen hog roast catering company. Several years later and we are where we are today, known primarily as a Carmarthen hog roast company and the best one at that. We've grown in more ways than one and I now feel privileged to head up a company with accolades for being one of the country's better caterers.
Our signature is still that taste-bud-tantalising hog roasting but alongside that the catering we provide people with has matured a lot. So much so that the food we cook which isn't spit roasted is held in equally high regard. Hog roasting is what we thrive and love, but it certainly doesn't define the company and what we do.
At Spitting Pig Wales we have bucket loads of experience, skill and professionalism to help your event sail as smoothly as possible. Our chefs, waiters and even our bar staff are fully trained to our own high standards and reputation, guaranteeing you an excellent service that's friendly and courteous. We have a number of different ways in which we cook our food, the most popular is the spit roasting method as it's a much more impressive sight and I'd personally argue it also tastes much better. We don't have to skewer and spit roast the animals though, the machines that we use also are built so that we can oven cook the animals in our special hog tray. The latter method doesn't have to be done behind closed doors so to speak, as we have machines with glass windows that allow guests to peer over and see the food being cooked, even when oven cooked. But if you would prefer we can cook you lamb, turkey, chicken, pheasant, beef and more. Pig isn't for everybody and neither is spit roasting, an alternative choice would be our barbecued burgers, sausages and kebabs, or any number of our menu options with dishes that don't involve hog roasting. Some of our clients even prefer to help us make a fresh menu that's specific to their own event.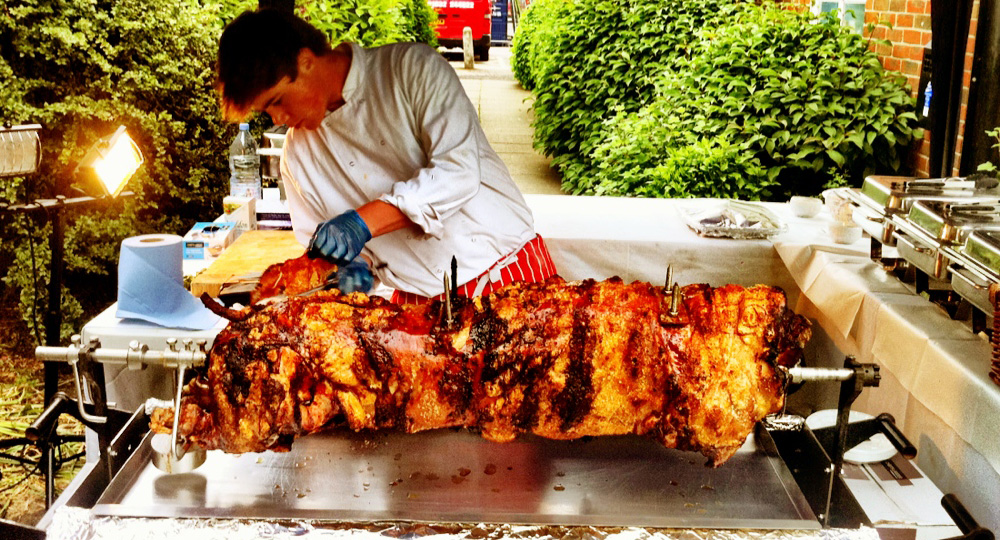 That's one of the many great things about Spitting Pig catering is the variation of what we do, we do simple, we do the not-so simple, we do 'proper' food and 'fancy' food – In short, we have a catering service for everyone and everything. So what else sets us apart from other companies? The most common compliment we hear back from clients – outside of the delicious food and our skilled staff, of course – is just how popular the service and the process of hog roasting (while it's being cooked) is with guests. The overwhelming consensus is that our hog roast in Carmarthen was a great focal point of the event, with many guests thoroughly enjoying the theatre our hog roast catering provides – The sights and smells and all those other senses unlocked while we cook the food with our impressive machines. An increasingly popular alternative to catering is the hog roast machine hire service, it's much more affordable, relatively easy to do yourself and in popular demand by individual clients and businesses within the food industry. If you don't want to use our catering service and cannot afford to buy a machine then hiring a machine for a period of time could be an excellent opportunity for you.
The Hog Roast Catering Dream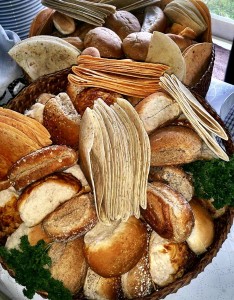 One question that myself and other members of the team always get asked is "How did Spitting Pig Wales begin?" Well make yourselves comfortable and I'll share our story with you so you can get to know us better. It all began when a few years ago I had already worked in the catering industry for Sodexho based in Swansea and had my own small business catering functions in my local area and also doing the odd hog roast in Cardiff. This was my dream job as I have a real love for food and a passion for creating good quality cuisine that people will enjoy. I started thinking about how the catering at events could be improved, so that the food wasn't just enjoyable but it also had the WOW factor that would impress people and liven things up. That's when the idea of a full time Cardiff hog roast business came to mind.
[peekaboo]
[peekaboo_content]
Due to my extensive experience within the food industry I knew that to achieve the best results I would need the best possible materials to begin with so using a top of the range hog roasting machine and a good quality, free range welsh reared pig I began hog roasting. I was amazed with the results. Tender, melt in the mouth meat that was cooked to perfection I knew I was on to a good thing. After months of research, experimenting and training I had developed a wide range of tasty menus based around the hog roast as well as lots of tricks of the trade including my very own secret recipe glazes. I held a hog roast in my local Village in South Wales to get some feedback and it went down a storm. The rest is history Spitting Pig Wales was born!
Since then the business has gone from strength to strength and I have recruited fellow hard working food lovers, all of whom share my passion for providing good quality unforgettable food for the people of Wales. The secret to our success is simple. We follow three rules to gain optimum results; hard work, unbeatable food and outstanding service. We understand that to get the best you must start with the best so we use only the finest quality meat for our roasts. We have built up strong working relationships with welsh farmers and butchers who we can trust to supply only the finest meat. We follow this way of thinking for all ingredients and products we use for our menus so that each and every time we prepare a tasty hog roast feast every sauce and side dish is homemade from the finest produce. Myself and the team know that to succeed you have to work hard so we put in the hours and go the extra mile for our customers. Another belief that we follow is that the service our customer receives must be faultless, we achieve this by maintaining our set standards at all times and building good customer relations. The best thing about us is that we all truly enjoy our jobs and love catering for people. We see every function or event as the next adventure in The Spitting Pig Wales story. Please get in touch and I'm sure you will benefit from our supreme food and friendly service.
[/peekaboo_content]