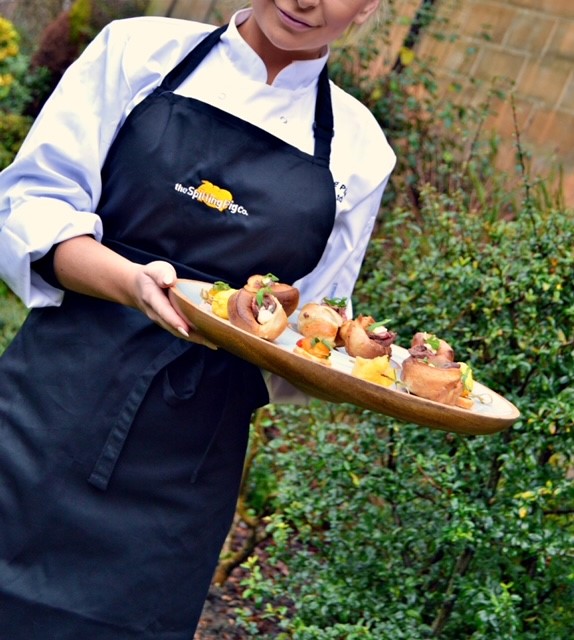 Event dining should always be an event in itself, so for your event catering this year choose Hog Roast Bargoed and allow us to transform your dining experience for every occasion in Bargoed and throughout the Rhymney Valley. We provide multiple services for all types of events – corporate functions, parties, weddings, community functions, we will bring you premium catering at an affordable cost. Our dining is specialist but made to be universal to fit the tastes of every occasion. How so? Because we provide a spectacular dining experience through our namesake slow-roasted pork's cooked in the authentic spit style.
By combining traditionality with modern flair in our mobile spit roaster Hog Roast Bargoed are creating unique and special dining experiences for events, one that gives guests a bit of a show and leaves all happy and satisfied. Favouring patience and effort over quick supplements, we put an onus on the utmost quality in our slow-cooked hog roasts. With a fresh and long preparation, our spit roaster works throughout the day of your event to provide not only a fine meal, but an added spectacle to go along with your special occasion.
Our authentic hog roast experience allows you to enjoy a dining practice that has been employed at events across the globe for centuries, all on account of its immense spectacle and ability to turn out high quality in high volume. But while normally such a special dining experience might be difficult to achieve or expensive to afford, with Hog Roast Bargoed it is made easy and priced fair and flexibly to your own budget. So be sure to get yours today with a call!
Bespoke Bites Brought To Bargoed
Hog Roast Bargoed believe in quality and flexibility all throughout our service. With plenty of meat, vegetarian, vegan, and gluten-free options you can create the event dining experience that you have always dreamed of. Once we have the menu set and your preferred service style that will match your event best you can then simply leave the rest to Hog Roast Bargoed. We'll work our magic and create a fresh dining experience assured to impress for your big day.
So, if you're looking for quality foods catered at an affordable price then remember that Hog Roast Bargoed is the place to call this year!