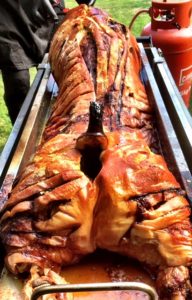 Working as a hog roast Barry caterer is a real pleasure. No-one knows better than us that for providers of premium hog roast Barry as a location takes some beating. If you've been here for a while and get to know the people you soon come to realise that when it comes to hog roast Barry residents certainly know their stuff. They want and expect a quality product. One thing's for sure – they can certainly expect the very best from us and that's the reason why the people of Barry keep returning to us for more. The people here find that our delicious succulent hog roast is irresistible and they can rely on us for a consistently great eating experience. So what is it about Barry itself that makes it such a good place to be based in our line of work? Well let's look at the town itself. In recent years, if you ask someone from outside the area what they know about Barry, the chances are that they're going to mention a certain BBC comedy show in their reply. No publicity is bad publicity as they say and Gavin and Stacey certainly raised the profile of the town. For us, that can only be a good thing. So far as we're concerned, the more visitors there are, the greater the chance that more people are going to be able to sample the delights of our wonderful hog roast.
So who are our customers? If you're not one of the 50,000 people who live in or around Barry and you happen to be in the town then the chances are that you're here for a great day out at the seaside. We might be a bit biased when singing the praises of the town – (after all it is our home) but as a seaside location Barry really does have everything you need for a great day out. If the weather's fine, you can set your deckchair out on the Whitmore Bay sands and sit back for the whole day. What happens if and when the showers start? No problem – move on to the rides and attractions at the pleasure park, the amusement arcades or take the family on a steam train ride at the Barry Island Railway Heritage Centre.
The Best Hog Roasts In Barry
It's when it comes to supplying a great dining experience whether it's after a day at the beach or as part of a celebration with friends, family or colleagues that we step in. We find that for many groups having a bit of a get together in Barry – whether they be visitors or locals, we have become the natural choice as the suppliers of top of the range succulent and fresh hog roast.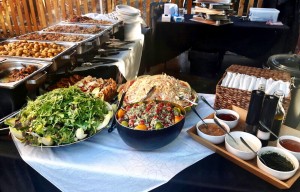 When it comes to hog roast hire Barry folk know that they can rely on us to deliver the goods as well. So how does the hire side of things work then? Well, we have top of the range machines for hire if you prefer to do it yourself and put on a party for your guests with you 'at the helm' so to speak. We've certainly found that more people in Barry are getting into this idea of operating the kit themselves. If people are looking for hog roast hire Barry residents know that we're the go-to guys in the area. Daunted by this idea? There's no need to be – we don't just leave people out on a limb with the equipment. We give our customers full training and any support or advice they need. Ask people in Barry who've used our hog roast hire service what they think about it – whether they be private individuals or pubs and other establishments looking to serve a tasty treat to their customers and they'll tell you what a top notch service we provide.
Some of you might be thinking if Barry is a seaside town, what happens when the summer comes to an end? Well that's one of the fantastic things about the delicious hog roast we prepare and serve up here. The people of Barry love it all year round. For instance what better centrepiece is there to a Halloween party or to a bonfire night celebration than the spectacle of a splendid hog roast with delicious accompaniments. Works Christmas party? We've got it covered. Variety is the spice of life as they say and the variety of people we have the pleasure of serving in Barry make it all worthwhile.