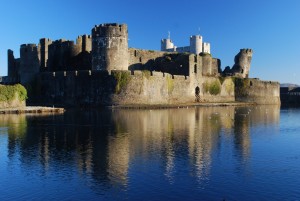 A hog roast Caerphilly is a fantastic way to cater for a large number of people in a unusual and exciting way, and compared to other ways of catering out there it is one of the cheapest available. It allows people to experience a mostly traditional way of social eating and at traditional fairs really puts the apple in the mouth of the hog so to speak. Giving the event that realistic feel. As hog roast Caerphilly I am asked to attend any number of functions, these include private events such as weddings and parties right through to business events for major companies to ply my trade as a spit roaster. Our company manufactures and supplies our own spitting machines that are tested and approved through the correct channels (Ce) and all come with a plaque and a mark to ensure they are safe to use by any one who hires one.
As I have already mentioned, I work in Caerphilly and the surrounding area, For those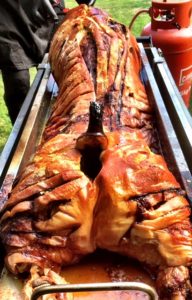 of you who don't know Caerphilly was founded in 1268, so there is gallons of history here in the town, and you can be sure there has been more than a few hog roasts here since the town was first founded. Caerphilly was given a charter to hold a market in 1351 so it would have been the hub of the local area pulling in people from as far away as 5 or 6 miles (A long way in those days) so there would have been a great deal of catering on offer to the local serfs. I love catering in Caerphilly. I have been fortunate to meet loads of brilliant and interesting people and attend some wonderful events in my capacity of a hog roast  Caerphilly caterer. I get to serve freshly cooked delicious spit roasted food, for it is not only hogs we roast, we can also roast turkey, lamb, up to 35 chickens at a time, beef, joints of meat, we can barbecue as well as roasting at the same time using a clever attachment for the machine we use. So all in all we offer a wide variety of services at once all at a very competitive price.
If you were to hire us, included in the price you would receive a chef and catering assistant, the rental of the hog roasting machine, The pig itself, salads and sauces, teacakes and disposable crockery and cutlery as well as table cloths and the tables they cover and also napkins. All the side dishes such as the salads are prepared in front of you by the chef while the meat is on the spit cooking so you won't get the chef and assistant stood round being idle while you all enjoy yourselves.
To summarise hog roasting is a cheap easy and effective way of putting a special mark on an event of your hosting. So why not give us a try?