There is nothing quite like a party with your friends and family. Spending time with loved ones, catching up and most importantly over indulging in some great food and drink! Our Swansea hog roast can really help to add something extra to the evening and get everyone well and truly in the party mood.
The Spitting Pig Wales team love catering for these types of events. It's great to see our tasty food being enjoyed by everyone in the family in a happy relaxed atmosphere. Picture the perfect party scene; the atmosphere alive with chatter and laughter, lively music being played loud and the tempting aroma of our tasty hog slowly roasting. Our first ever event was a private function in our home village, a small family function with 40 guests celebrating a christening. Its no exaggeration when I say it was the talk of the town! Soon word spread and we were helping everybody in the village celebrate every milestone birthday, engagement and much more. Our reputation grew and it wasn't long before we were travelling further a field helping others enjoy the perfect party feast.
Thanks to this our catering experience has grown and grown making us the experts in Wales and the best choice for you and your function. Private parties are just one of our many specialities and as we love to cater at them so much we introduced a special range of menus designed for these types of occasions. From simple relaxed hog roast in a bun menus to luxurious feasts with all the trimmings there is the perfect package whatever you are celebrating. Do you have a special occasion coming up? Or do you feel like hosting a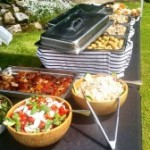 gathering for your friends and family? If yes then when it comes to the catering hog roast Cardiff won't let you down. Show your loved ones how much you appreciate them and treat them to a tasty hog roast and we guarantee they will thank you for it. So if its Grandmas 80th coming up or your wedding anniversary is just around the corner make sure you give us a call and let us turn your party into a spectacular event.
1.       Our Slow Roasted Hog Served With a Selection Of Fresh Salads or Vegetables.
A great way to enjoy your hog roast as a relaxed informal meal.