If you are lucky to be getting married in beautiful Wales then you are in for a treat. There is no better place to celebrate the happiest day of your life and begin your wedded bliss. There are so many wonderful, magical locations to choose from that create the perfect background for this romantic day.
So whether you have selected a beautiful rural location or one of the cities magnificent hotels or grand churches you now need to select the perfect catering plan that will do your day justice. This is where Spitting Pig Wales steps in to save the day!
We have our very own wedding menus full of tempting delights that are perfect for your big day. Your wedding breakfast is possibly the most special meal of your life and one you will always remember. Make sure the memory is one that you treasure by letting us provide you with the perfect meal to compliment the perfect day. We have a wedding breakfast to suit everyone from the simple to the more luxurious take a look at our range today and you are sure to find the wedding meal you have been dreaming of.
As always we are dedicated to giving you exactly what you want, after all this is your day and its all about you so why shouldn't you have exactly what you desire? So whatever you and your partner have in mind we are more than happy to help you create it.
Picture the wedding day as you are glowing with happiness and enjoying the day you can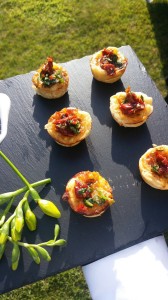 sit down with the people you love the most and enjoy first class food whilst our wonderful staff wait on you. You wont have to wonder if your guests are enjoying the feast the looks of delight on their faces will say it all as they devour the beautiful wedding banquet. Everybody will be taken care of and we promise to make sure nobody's champagne glass is ever empty!
So please get in touch with us today we would be honoured to meet yourself and your partner and chat about what you envisage for the big day. We can even hold taster sessions so you can sample some of our fine food yourself. I'm sure you wont be disappointed.
Back To Menus