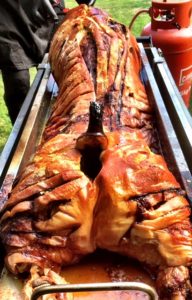 Hog roast catering around Ebbw Vale is always fun; it brings something different every day. I've catered for birthdays, weddings and civil partnerships, anniversaries, corporate events and lots of other miscellaneous events like retirement parties and new baby celebrations. Today we delivered a hog roast machine to a hotel for a party to celebrate the launching of a new business. We also had another delivery to make shortly after that, so we loaded two hog roast machines into the van after checking they were working, and drove off to the hotel. We wheeled one of the machines inside. A few people including the clients were already inside the room, and I plugged the machine in while a member of my team, Kathy, made small talk with them. They already had a roast in the room, on a table. Daffyd and I lifted it into the machine, where it began to turn slowly.
The Best Hog Roasts In Ebbw Vale
Then we were off to deliver another hog roast machine. We drove around a bit first, as we still had plenty of time to spare. After a while of Daffyd driving aimlessly, we went to the pub where a couple was celebrating 15 years together. Their three kids were there, too. Kathy plugged the machine in and made sure it was working properly.
After that, we returned to our premises. Our receptionist Myfanwy told me that two people had rung asking about catering, and I took the details and entered them in the database system. I was buried in paperwork for a little while, as downstairs in the kitchen the chefs were busy preparing a hog roast. All our hog roasts come with crackling and applesauce; we also use spices to really bring out the taste. Soon the roast was ready and it was wrapped and put into the van, along with boxes of decorations, wine and everything else we would need. It was time to cater for a local group at the community centre.
Ebbw Vale is a medium sized town at the head of a valley. In its history it was a steel working and coal mining centre, contributing much to the industrialisation of the country (including the world's first steel rail in 1857). The town's rugby club is very successful, and indeed Ebbw Vale has a long history of being good at Rugby; previously in the mid-2000s the Ebbw Vale rugby club competed at European level. Many people in the area are justifiably proud of the town's sporting traditions. Though sadly unemployment rates have remained high in Ebbw Vale since the decline of the iron and steel industries, the future of the town looks bright, especially in regard to sports. Some well known people have come from here including the MP Michael Foot and the athlete and world marathon record holder Steve Jones. There is good shopping at Festival Park Branded Outlet, and the town boasts a large theatre. All in all, it's not a bad place to live. I live and work here; we are a hog roast catering business. We offer both hog roast Ebbw Vale and hog roast hire Ebbw Vale.  Hog roast Ebbw Vale is a full catering service (including decorations, balloons, bread rolls, condiments and serviettes) while hog roast hire Ebbw Vale is a hog roast machine hiring service, for those who have more of a hands on approach. If you're looking for hog roast Ebbw Vale or hog roast hire Ebbw Vale, we're the team for you.