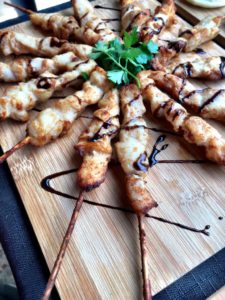 Event dining is no easy affair. With so many mouths to feed and a high expectation placed upon the mealtime experience it can be difficult to find the best ways to manage quality in quantity too. Fortunately with Hog Roast Llantrisant that stress can flit away as we take care of everything in immense style through our exceptional catered services. With Hog Roast Llantrisant mealtime at your event can become an occasion all by itself as we deliver high quality dining in unique, subline, style. Hog Roast Llantrisant are dedicated to the craft of authentic hog roast dining to bring customers a better way to dine at events, a way which provides both taste and spectacle in one perfect pork package.
Our practices have been so refined over the years, with our very own twist on the traditional hog roast. This once classic of British culinary history is made better and easier than ever before as we turn the fire pit roast into a mobile, efficient process with our very own hog roasting units. There is little else quite like it on the market. With a long slow cook on one of our exceptional machines your event is treated to  a wonderful hog roast that can be served up in a multitude of incredible ways. It delivers on all of the crisp, seasoned, and juicy tastes that one might expect from a high-level roast while also providing a unique spectacle too as the whole pig cooks all at once in fiery style. As we often say here at Hog Roast Llantrisant: it puts the "event" into "event dining".
Luxurious Events Made In Llantrisant
Hog Roast Llantrisant are delighted to be able to serve up a loving meal for any and every guest. With a vast array of quality food options there is something to be found for everyone at Hog Roast Llantrisant. For weddings, corporate events, private parties, annual festivals and more Hog Roast Llantrisant have a refined set of menu and service packages designed to fit the matter of the day perfectly. We can provide luxurious dining for formal occasions, or more casual services for other styles of events. We can serve indoors or out, buffet style or set menu – put simply: we can serve a menu of your choosing your way for your event!
However you want it, Hog Roast Llantrisant will provide it – so call today!