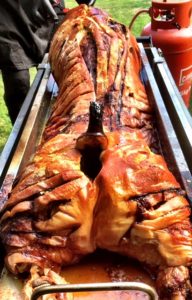 As hog roast caterers, we love to create drama when we reproduce the entire food theatre of the traditional hog roast with our open fire rotisserie-style roasting. We marinate the hefty pig (the star of the show) with a Mediterranean blend of herbs, lemon and garlic with olive oil and then slow roast it over six hours till the flavours waft around and beckon to the guests. We do not confuse our hog roast with too many flavours because we know the Welsh penchant for uncomplicated yet flavourful food. When we offer hog roast Llantwit Major-style, we make sure we have enough machines so that we do not have to turn down your calls. With 10 hog roasting machines in our backyard, we are equipped to cater to all kinds of alfresco hog roast hire needs.
Yes, there are dime-a-dozen hog roast providers in Llantwit Major. But to whittle down your choices to us, here's what we promise. An experience unlike any other caterer, just as no two hog roasts are the same. We do not charge extensively — the very nature of hog roast hires that make them well beloved are because they are economical and yet curiously luxurious affairs in terms of the drama and flavour that they afford. But most importantly, we find that the bread, the condiments and the trimmings can make or break the affair. So our forte is in putting out an array of fresh salads, ciabatta bread rolls and home–made apple sauce to add to the experience. We cater for weddings, parties, birthdays and any other occasion calling for alfresco hog roast hire Llantwit Major.
Hog Roast Llantwit Major – Leaders In Our Field
If you are particular about the kind of meat we offer, do not fret. Our hogs are essentially free-range and we source them locally from farmers. After all, what better than local produce? You can choose from a wide cross-section of traditional breeds — Gloucestershire Old Spots to Large White Crosses and Berkshires. Let's not forget the vegetarians and the non-pork eaters. We do offer options that include salmon kebabs, vegetable burgers, vegetable kebabs and roast chicken. We even offer other alternatives to pork meat. Just let us know and we shall customize the roast to your needs.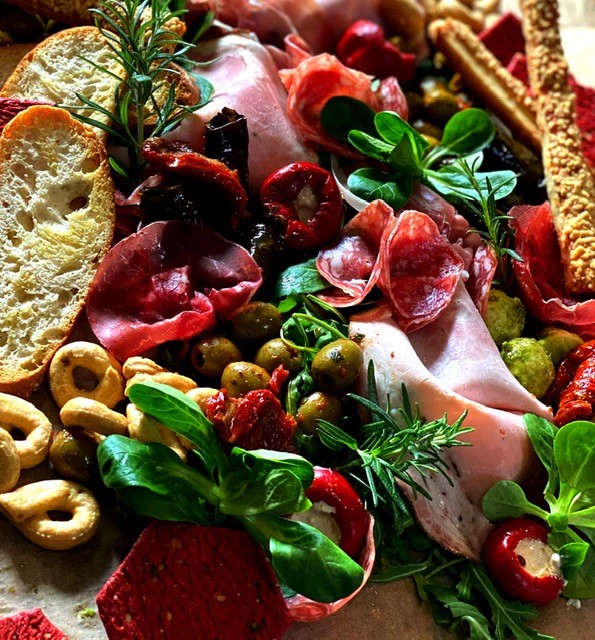 And lastly, we are more than particular about our hygiene standards and we strictly adhere to all hygiene and food safety norms. All our certificates —  Food Hygiene, Food Handling, Public Liability insurance, and CE Approval Certificates —  are at hand for perusal. So when you are on the lookout for hog roast Llantwit Major way, look no further than us. Chancing upon the ancient village of Llantwit Major is a discovery of sorts. Located on a 14-mile stretch of heritage coast in the Vale, the village is one of the earliest Christian settlements. Llantwit Major is said to have grown around a monastery (and now a Christian college) founded by Saint Illtud who arrived in the coastal place from Brittany in the 5th century AD. The modern Llantwit is home to Royal Air Force personnel, surfing beach hotspots and the pre-historic too such as Jurassic-period fossils and remnants of an Iron Age fort. But its charm lies in the fact that it can be explored on foot as it diverges into narrow cobbled lanes and by lanes. Getting lost in its maze of streets that are peppered with old inns and buildings is a pleasurable experience, especially when at the end of the day there is the option of winding up at one of its 16th century public taverns. And while you are downing pints of a local brew of beer, a friendly neighbour might just impart you with little nuggets of history – that the same tavern happened to be the town's mint. In the mid 17th century, the innkeeper of the tavern produced his own brass coins. With history leaping out from every nook and corner of the village, it is not surprising for the people of Llantwit Major to stick to traditional affairs. Hog roast hire Llantwit Major catering almost go perfectly well with its historical past and are so popular in town that even some of the hotels embrace it and offer fun hog roast meals to their guests. The backdrop is the perfect accompaniment to digging into spit-roasted pieces of hog, even as they did in the yester days with fingers, sans any of our modern cutlery of forks and knives. But that we leave to your discretion.