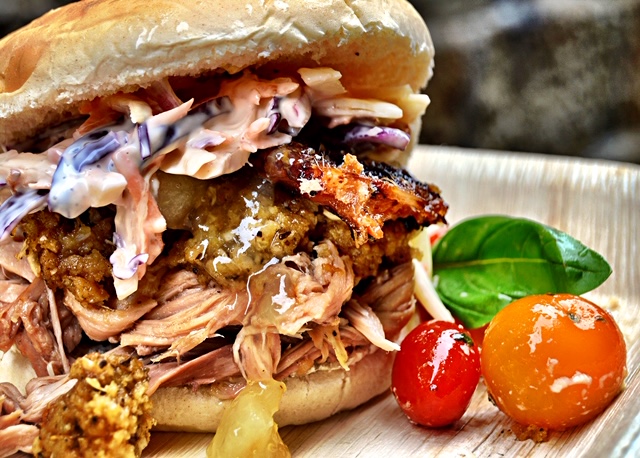 For your weddings, social club nights, anniversaries, team dinners, birthday's and more be sure to pick Hog Roast Merthyr Tydfil for all of your catering needs. As specialists in event catering, we have created a revolutionary dining experience capable of livening up any occasion. As our name might suggest, at the centre of our business is a premium quality hog roast made using some of the best traditional roasting methods seldom seen today.
For us, the traditionality of the spit roast provides that extra bit of dazzling flair to events as well as an unrivalled level of quality not available to regular oven roast or other roasting methods. With our speciality hog roast you are receiving the perfection of nearly 30 years of experience as our hog roast, slow cooked over many hours, comes to an unbelievable level of taste and texture. With the spit roaster ensuring a delicious crispy charring across the entire pork skin, locking in all of our pre spicing and salting in doing so, our hog roast is a glorious achievement of delicious and tender meat with juicy flavour and a perfect texture that allows its use in a variety of freshly made dishes.
There'll be no need for "martyrs" in Merthyr with the services of Hog Roast Merthyr Tydfil. Our service works easily to you and works under your budget without ever limiting on quality. You'll get the premium foods and services you desire all at an affordable price.
Roast Dining Like No Other with Hog Roast Merthyr Tydfil
At Hog Roast Merthyr Tydfil, we've pulled out all the stops to provide a vast menu of quality foods to complement our very special hog roast. With many meat, vegan options, vegetarian and gluten-free dishes there is something to be found for everyone at Hog Roast Merthyr Tydfil, and with our team's expert food recommendations you can be confident in finding a perfectly refined buffet or set menu combination to liven up your event. We have many menu packages ready to go but we always love a bit of a challenge from our customers, so feel free to request to your heart's desire!
It's a deal too good to miss, so call Hog Roast Merthyr Tydfil today!