The Best Hog Roasts In Neath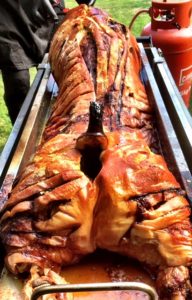 Life is good for a hog roast caterer here in Neath. At least that's what we think and it's why we feel so privileged to be able to provide our service to the people of Neath. And it's certainly a catering service we can be proud of. When it comes to hog roast Neath people will tell you that it's us you should be thinking of. We've built up quite a reputation in Neath and it's a reputation we work hard to maintain. You could say that we are the hog roast Neath 'go-to guys'. Quite simply, Neath is a wonderful place to work (at least we think so) and it's a privilege to be able to cater for our many customers here. It was in Neath that eleven rugby teams met over 130 years ago to form what was to become the Welsh Rugby Union and rugby is in the town's blood – as they say. Just as the local folk certainly don't like to see their team face defeat on the rugby field, it's also the case that they expect the finest quality catering. And rightly so.
What we find is that to provide the best quality hog roast catering you have to get all of your separate components right. Firstly, you have to have the finest ingredients. We're lucky here in Neath to be in such close proximity to fine locally based producers of great quality meats and it's something we take full advantage of. Secondly, meat of such quality deserves to be treated properly and our philosophy is that there is no better way of cooking great meat than spit roasting. You simply can't beat it for getting the flavours of the meat flowing. We couple the ancient art of spit roasting with the finest modern equipment to ensure that the very best is brought out of the meat and to create an unforgettable feasting experience for our customers and their guests.
Most importantly though, we understand our customers here in Neath and find that the best way of helping them to get the most out of whatever event it is they are planning, is to really speak to them and work together with them to get the perfect menu together for their celebration. No two events are the same and whether it's a small party for family and friends, a wedding or a large corporate event, we work with our customers to guarantee a successful event. What we recognise here in Neath therefore, is that the third component to success in catering is customer care. If our customers are happy with our hog roast catering then so are we.
Leaders In Our Field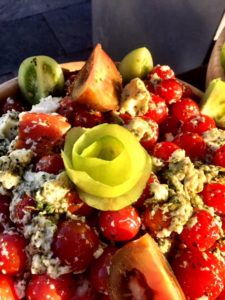 Flexibility is the key here as we find in Neath. This brings us onto one important part of our hog roast catering business and one which proves very popular all year round. Hog roast hire Neath residents will tell you is really taking off, whether it be for individuals or corporate customers. The idea behind it is that we supply our customer with some very high quality spit roasting equipment. We can also supply our high quality meat or alternatively the customer might have sourced their own meat. We give full instruction and guidance and we are even able to negotiate special rates for extended hire periods. The customer is then able to prepare the meat themselves and proudly present it to his guests. This is certainly very attractive to a lot of people and lets face it – what more attractive centrepiece is there to a party than being able to prepare and serve your own delicious hog roast. Hog roast hire Neath people say (or at least many of them) is the way forward.
But of course what many people want and expect from a caterer is top quality service and Neath is no exception in this regard. To deliver this we have a dedicated team of chefs, waiting staff and customer service assistants on hand. This is especially evident with our wedding service. We have a range of menu options available so that there are a wide variety of ways in which a couple can treat their lucky guests to the mouth watering spectacle of a hog roast – whether that be for the main wedding breakfast or as an evening buffet.
Our pure professionalism becomes most apparent when we cater for corporate events here in Neath. The people in the business community here recognise that a hog roast, exquisitely presented and expertly served, constitutes a very effective way of impressing your business guests.
Whether it's an event for business or pleasure, we cater for them all here in Neath.