The Best Hog Roasts in Penarth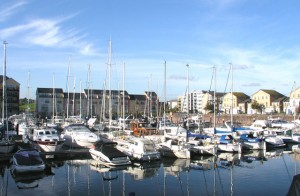 We are a hog roast catering company, providing both hog roast Penarth and hog roast hire Penarth. For those interested in hog roast Penarth, we provide a full catering service including decorations, bread rolls, serviettes and condiments. We also offer hog roast hire Penarth for those who prefer to hire hog roast machines and do it themselves. Hog roasts are prepared in our kitchen; all of our hog roasts are prepared according to our own recipe and methods, and they all come with crackling, applesauce and spices. We use only the best ingredients. Our chefs are specially trained to prepare hog roasts (the process is complex due to the size of the roasts).
Today we were catering a birthday party in a local hotel. It was a 50th; we've catered for teens' birthdays all the way up to people in their 60's and 70's. (Which I guess proves that hog roasts are cool whatever age you are.) The client owned a company in the city. His wife and two daughters were there, along with some of his friends.
Leaders in our Field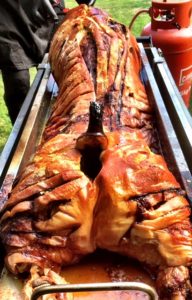 My favourite moment is always carving the roast, and we try to make it look good, because everybody watches. Also, in an affluent area, people expect more. The knife pushed into the reddish brown meat, which smelled delicious. The hog roast machine was radiating heat. I saw a small slit form, then as the blade pushed deeper, bubbles lifted to meet the steel. In the same fluid movement, I created a deep gash, and now the hog roast aroma flooded out. We carved and served the roast and I felt proud and happy that everyone was enjoying the roast and having a great time. A few of the guests told me that they had never tried a hog roast before, and that they like it. Others told me it tasted great or was better than other hog roasts they'd had.
So this was a successful day for us! Hog roast catering is a fun job and I'd never change my job. Penarth is a large town. It's a seaside resort and at the same time is near the city, which makes it a perfect place to live if you like shopping but prefer not to live in a city. There are a lot of commuters and retired people living here, and a substantial amount of people living in the relatively expensive Edwardian and Victorian houses. Penarth is an affluent area which means that adherence to the highest standards is vital.