The Best Hog Roasts In Pontypool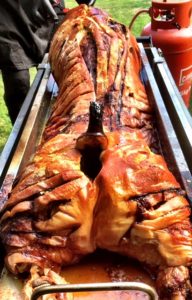 The key to our success is that we love catering for our customers here in Pontypool. It might be a small town but so far as we're concerned, that's all the better for building up a great community spirit. What excites us is being able to play such a large part in the community when it comes to helping the people here turn their celebrations into something special to remember. For hog roast Pontypool people have come to regard us as the place to go. Reputation is the key and our reputation is one we can be proud of.
Don't get us wrong though – there's certainly a lot going on around Pontypool. There's plenty of great shops in the town centre, our own Jazz in the Park festival every September, we've got the National Mining Museum down the road and we're on the edge of the Brecon Beacons National Park. One of the advantages of this idyllic rural setting is that we happen to be surrounded by so many great local producers of the best quality meats. What better way of respecting this great agricultural tradition than serving this beautiful meat by way of a perfect spit roast seasoned just the way it should be.
The beautiful surroundings here also mean that we get our fair share of visitors. One thing these visitors all have in common is that if they've tasted our sumptuous hog roast they go away satisfied and more often than not they come back to us if they're lucky enough to be visiting Pontypool again. What better way for a cycling or hiking club to round off their weekend in the Brecon. Beacons than with a delicious hog roast served by one of our expert cooks. As a visitor to the area we want you to sit back and relax while we make sure that you and your guests are properly looked after with a real taste of our beautiful countryside cooked in a time honoured way.
It's the local people of Pontypool who really know us though and it's these people who know that we can be counted on to provide a premium quality but at the same time competitively priced service year round – whatever the event or celebration. What keeps the work interesting for us is the sheer diversity of the events we have the privilege of covering. Some of our customers are planning a party with family and friends but they want to make it that extra bit special. It might be a birthday, christening, wedding anniversary or  engagement party. What we say to people in Pontypool is that whatever the celebration – big or small, formal or intimate, we'll be there to work out a suitable menu with you from our many options. We'll make sure that everything's right so you won't have to worry about anything.
Leaders In Our Field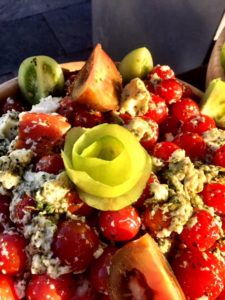 The same principle applies to the many weddings we cater for in the Pontypool area. Whatever type of wedding our customers go for in whatever location (and lets face it, there's plenty of choice of venue around Pontypool), our customers can rely on us to help make that special day perfect with a lavish hog roast to delight their guests. For hog roast hire Pontypool residents also know they can trust us to deliver. For many people, whether they be individuals or corporate customers, what they're looking for is to be able to serve up delicious hog roast themselves. Hog roast hire, Pontypool residents will tell you is exactly what you need for this type of situation and what they'll also tell you is that we're the people to call for this. Whether it's a pub landlord or a householder looking to give that x factor to a party, we will set our customers up with the best equipment and give them the guidance they need to get up and running. Whatever the occasion and whatever the season, Pontypool people know they can count on us.
What is it about working as a hog roast caterer in Pontypool that's so special? For us it's the combination of people and place which make it a pleasure to work in Pontypool. Of course, to achieve success you need a premium product and our combination of the best meats, locally produced and cooked and prepared to perfection on top of the range equipment by our expert staff has certainly proved to be a winning combination. For the hog roast Pontypool experience to savour, people return to us as their natural choice.