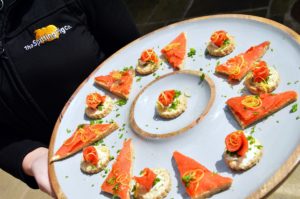 Event dining is a core part to the event experience, so of course you want to come to a caterer that can guarantee unequivocal quality all throughout its service. That is us at Hog Roast Pyle. For your events in Pyle we have a catered experience worth every bit the "event dining" labelling as we look to the authentic methods of spit roast cooking and stylish service to satisfy every taste at your next event. Our methods are unique, our service exceptional, and altogether we have an incredible feast of the very best roast foods and fresh meats for your dining enjoyment. Bring a unique dining and quality traditions to your next wedding, corporate function, Christmas party, birthday, festival or more with Hog Pyle today!
At Hog Roast Pyle we endeavour to bring your event up to a standard that won't soon be forgotten. One of the ways we do this is through our mobile hog roasting machines – a modern update on the old fire pit spit. They combine the traditional simplistic principles of proper spit roasting with a touch of our own additions in ensuring better versatility, efficiency and ease of use. With these machines we can cater magnificent dishes fresh at your event and cook for hundreds of guests all at once while still preserving immense quality in every dish. 2 hog roasts can cook alongside 100 more potatoes, or roasted veg, chicken legs, barbecued burgers and sausages, you name it! Our dining is made specifically for the high demand of events, no matter guest numbers, location, or the style of the day.
Event Dining And Hired Services In Pyle
Think we're just a one trick pig? Think again? Hog Roast Pyle have a huge variety of menu styles and service options to suit your event specifically. We have many menu options to tinker to your event's style and tastes. Fancy the taste of the Mediterranean? Go for our Al Fresco platters then. The smoky tastes of the American South? We've got perfect options for that too. And, of course, there is still always the ol' reliable with our famed hog roast itself – a dish so good we couldn't help but set our name by it!
Whatever you need, however you want it, Hog Roast Pyle will see satisfy your tastes. Just call today!