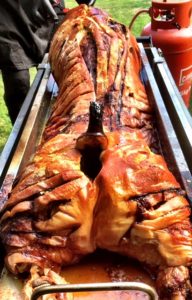 In the wonderful Welsh county of Carmarthen you can find one of the most lovely towns around the area: The town of St Clears. St Clears is a small town of only 2,800 people who form a tight knit, Welsh community. If you're looking for a town that emulates Welsh heritage I really do think that this could be it. Although officially a town, St Clears has a real village feel to it and in the small, quaint town centre you will find small, locally owned businesses such as butchers, craft shops and cafes, with those classic Welsh buildings lining the streets. The town is situated on the River Taf, and is only an hours drive away from some of the most fantastic countryside and the beautiful Pembrokeshire coast. St Clears is a town of friendly locals, historic buildings and some of the most amazing events I have had the pleasure to cater for. Who would have thought such a little place could throw some of the biggest parties and celebrations?
The Best Hog Roast In St Clears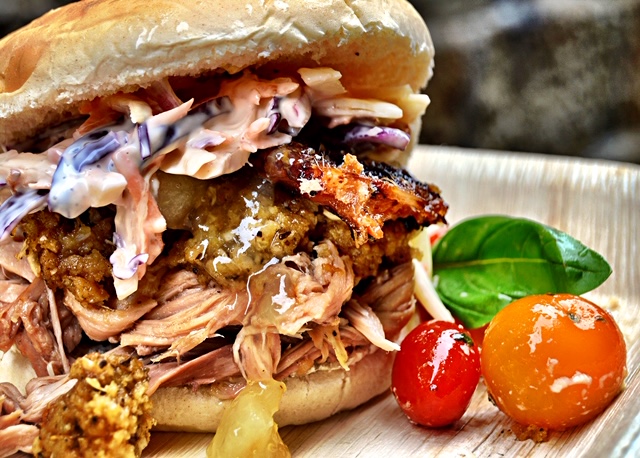 At Spitting Pig Wales, we are always honoured to be asked to cater for your event. It could be a wedding, a party or even a family reunion! We are lucky enough to have been able to cater for such a wide range of events that there isn't much that we haven't had the experience of catering for. Of course, there is always the occasional one that surprises us! Over the years we have been invited to some very unique events including gender reveal parties for a couple expecting a baby and even a Star Wars themed fancy dress party! I think it is clear that we are a very versatile catering company and we pride ourselves on adapting to your requests and occasions no matter what it may be. If you have an upcoming occasion in the wonderful town of St Clears, consider us here at Hog Roast St Clears for high standard, professional catering with expert knowledge in the culinary art of spit roasting. You select a meat of your choice, your sides and how you would like it to be served and we take care of all of the hard work for you until your delicious meal is ready to tuck into! What could be better than that?