Ah, Tenby. The name itself just fills me with childhood happiness of trips to the special, seaside town. Tenby is located in the Welsh county of Pembrokeshire to the west of Carmarthen Bay. Home to around 4,500 people, Tenby is famous for it's stunning appearance; coloured buildings tower over the beautiful beaches, the sea only disturbed by harbours, fishing boats and some brave swimmers! It's beauty is partially down to it's impressive historic landmarks including the 15th century St Mary's Church and some fantastic Tudor buildings. However, I absolutely must recommend taking a scenic walk along the Pembrokeshire coastal path which you can pick up in Tenby to catch a breath of that good old seaside air and look out across the cliff tops to the nearby island of Caldey.
Tenby is a popular location throughout the year, but come in summer time for a sunny day spent on the beach, ice cream in hand admiring the glistening sea. However, if you are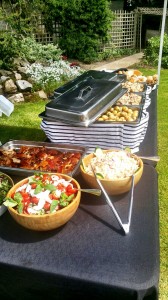 visiting in winter, be sure to witness (or take part if you're brave enough!) in the famous Tenby Boxing Day swim where hundreds of swimmers often in fancy dress run into the sea for a chilly but refreshing festive dip! We are confident that a delicious hog roast could be the perfect reward for such a challenging task!! Here at Hog Roast Tenby we are specialists in hog roasting and pride ourselves on the expertise and professional skills of our chefs. Hog Roast Tenby will attend your event (whatever the occasion) and slowly, turn whole meats over flames for several hours. This method of cooking ensures that we can provide you and your guests with that high standard of fall off the bone meat that is so succulent to eat! However you like your hog roast, we can find a menu to suit you. My personal favourite though has to be the humble hog roast sandwich; freshly baked, floured bread rolls, heaps of tender pork meat, lashings of homemade apple sauce and a good portion of stuffing! Simple, but so very delicious! If this has your mouth watering then why not get in touch with Hog Roast Tenby today to arrange our fantastic food for your next occasion?