Themed parties have always been popular for kids' birthdays but these days they seem to be getting even more popular. Parents are now often asked for Frozen, Trolls, Shopkins or Pokémon parties these days. We know full well that any kind of party planning can be stressful, let alone planning a themed one with all the decorations and costumes that you need to buy, so why not let us take care of the food catering so that you can concentrate on other aspects of the day? We have menus to suit different budgets and can provide the food for informal gatherings or ultra-posh affairs with any number of guests, small or large.
Mick and Michaela called us in the spring as they wanted to book a summer party for their daughter Kerry's 11th birthday. Knowing that summer is especially busy with catering services like ours, the couple wanted to plan ahead and book us for a hog roast in Llanelli for the function, which would be themed Wizards of Waverly Place. I had no idea what this was (it's a Disney TV show apparently!) but the theme of a party doesn't affect our catering services, so we left it at that and just organised with Mick that we would provide our lovely hog roast rolls and a vegetarian option of quiche.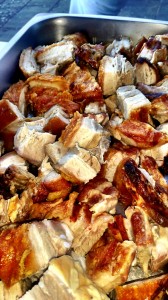 We were booked in to cater over the Bank Holiday weekend and arrived nice and early on Sunday to roast the pig for a few hours. When we arrived at the venue, the garden was decorated with something called Glee. It turned out that between booking the party and the actual event, Kerry had grown out of the Wizards of Waverly Place and wanted a Glee party instead. Glee is an American TV series about singers, so there was a karaoke machine and later on, there would be lots of girls queuing up to take their turn.
We got on with the cooking and kept on eye on the pig as it soaked in its own juices. The guests started to arrive as the hog roast Llanelli  was resting and it was soon time to dish up the sauces, stuffing and bread rolls as well as the veggie option.