Recently, Anne celebrated her 60th birthday and her family wanted to make the occasion extra special by organising a surprise birthday party for her. Anne's family told her that they were putting on a small buffet at her son's house with a few close family members. However, Anne's son, Mike, had hired the Hog Roast Bridgend team and they had invited all of Anne's family and friends to the party.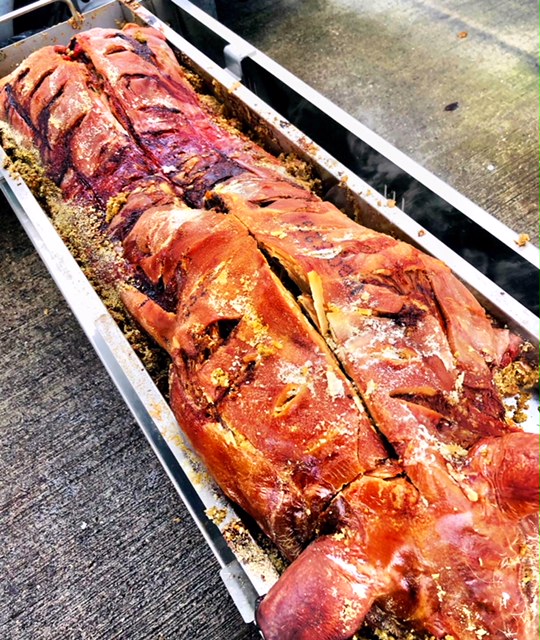 On Anne's birthday, the Hog Roast Bridgend team arrived at Mike's house and set up their equipment in the garden under their marquee. Mike had selected 'Menu Three' from the team's private party menu selection. This menu consisted of one slow roasted hog which was beautifully cooked in the team's Hog Master roasting machines and was served with crackling and apple sauce. The food was served as a buffet and a variety of freshly made bread rolls and side sauces were presented to Anne's guests. In addition, new potatoes were cooked in butter and presented neatly alongside three different salads, freshly prepared by the Hog Roast Bridgend team's head chef. This catering choice was a great way to please all of Anne's guests and was enjoyed as relaxed and informal meal.
   The surprise was a great success. Everyone hid as Anne arrived and surprised her as she came through the door. She was even more overjoyed with the sight of the Hog Roast Bridgend team who were working tirelessly in the garden to create a fantastic Hog Roast buffet despite the winter chill. Once Anne had greeted all of her guests and thanked her children for organising the party, the Hog Roast team opened the buffet up to the guests for everyone to enjoy.
Anne was very pleased with the food and all of the elements of the buffet were to suit her tastes. Everyone had a great time at the buffet and the team ensured that the guests did not run out of food. In addition, Mike was pleased at how smoothly the party had flowed and was glad they had pulled off the surprise, while the party was a great way to celebrate.