When Val and Jim contacted Hog Roast Abergavenny a few weeks ago, it was to enquire about our hog roast machine rental packages. The couple wanted to host their own hog roast at home in the back garden for a family New Year party – they would be letting off fireworks and making their party go with a bang because of their own cooking skills too!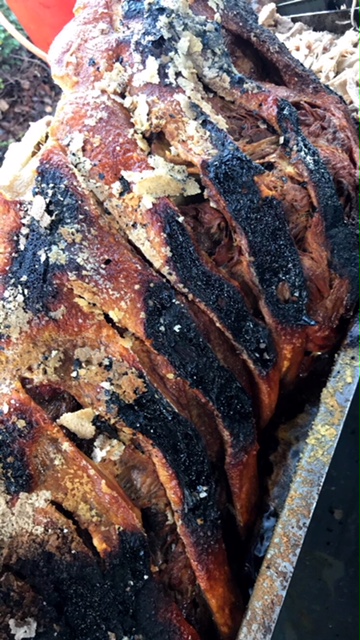 You may not know this but we hire out our equipment to both professionals and domestic chefs, for a variety of reasons, and Val and Jim are one of many couples to rent one of our range of hog roast machines to have a DIY roast at home. Included in the package is our expert knowledge and years of experience, so we walk you through how to use one of our machines, and answer any questions that you might have about the processes of preparation, cooking and serving the meat. Also included is delivery and collection to your venue of choice, and with Val and Jim coking at home, that's where our Hog Roast Abergavenny chef would be delivering it on the morning of the party – on New Year's Eve itself.
We've spent many years teaching others the art of the hog and spit roast but when it comes to our machines themselves, it takes no time at all. It's as easy as setting the temperature, turning the machine on and then watching over the meat as it sizzles away – easy as pie! Nevertheless, we have lots to tell our customers about how to prepare their choice of meat before cooking it, and how to slice it before serving, as well as various things like how long it takes to cook so many kilos and where to source the meat in the first place (which we can do if preferred).
On New Year's Eve, our Hog Roast Abergavenny chef delivered a hog roast machine and a medium sized hog to Val and Jim's home and taught them both how to prep and cook the meat. When we collected the machine, the couple told us all about their highly successful first hog roast and they've booked a hire for February too, for a Valentine's hog roast!