The 14th October marked a special day in the life of Gill and Ian, it was their 50th Wedding Anniversary to be held in their farm in Marston, Hereford. It marked special importance as they were married in one of the farm buildings 50 years earlier. For this celebration they had erected a large marquee for the 100 guests.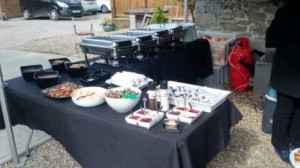 Spitting Pig Wales travelled from their farm in Llanfyyndd to Hereford and set up in the catering kitchen supplied on the edge of the marquee. The guests were treated to a hog roast, roast beef &  lamb, boiled herb potatoes and sausages & burgers for the children. The accompanying homemade coleslaw, tomato/mozzarella and green leaf salad filled two serving tables. The smell of the hog roast had the guests forming an orderly queue. They weren't disappointed and many guests came back for seconds.
The band then struck up and the dance floor quickly filled up. The Spitting Pig Wales Team quietly packed up and made their way home.