As we provide our services day in, day out, most weeks of the year, we do experience occasions when things don't go as smoothly for our clients as they'd like. Sometimes the weather is inclement for outdoor events, or maybe the guests don't turn up on time, or any one or more of a whole array of potential pitfalls. But I have to stress that these pitfalls rarely, if ever are resultant from error on our part, we've been doing this for so long now we know the business inside out and take care to make contingency plans for possible eventualities that might affect our provision (for example, the invention of the foldable gazebo certainly makes our job a lot less dependent on the Great British Weather!)
But this week, at Norman's birthday party at Raglan, it was one of those occasions where everything went absolutely like clockwork. Smooth, precision clockwork, well oiled and every component slotting into place and complimenting the actions of the other parts perfectly.
We arrived, as we always do, early enough to set up and start the slow process of roasting a hog to the point where we know the juices have rendered the fresh and locally sourced meat to the perfect state of deliciousness. Norman had thoughtfully arranged the layout of his garden so that we were able to set up our purpose built roasting machines inside the space in the room behind his garage, so we didn't need to worry about the possibility of precipitation, though the gazebo went up anyway in front of our serving tables, as it allowed space to set up the warming dishes and lay out the tables with the bread rolls, wraps, side salads and condiments for maximum ease of Norman's guests.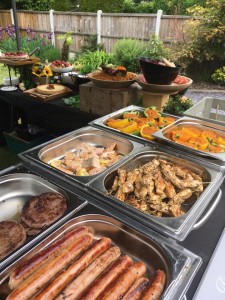 When it came time to serve up, we were inundated with guests who lined up eagerly in front of the hog roast Raglan and we dispensed the slices with the skill and aplomb with which we like to think our guests can legitimately expect. As usual, the crackling proved to be a point of discussion between us and more than a few of the guests, who declared it to be almost as important as the hog roast Raglan rolls themselves. Afterwards, whilst we were clearing away, Norman came over and waxed lyrical about how if he'd realised that organising a party could be this easy and straightforward (not to mention tasty), he'd do it more often.