If you have a special event coming up, why not mark the day with the great spectacle of a roasting pig? The sights and smells will have you and your guests chomping at the bit and queueing up for seconds or more. We would certainly recommend a hog roast Cardiff as being suitable for just about any kind of event that you have in mind. For Martin's 40th birthday at the weekend, he asked us to help make his poker party a success with a hog roast Cardiff feast to be served to 20 friends and family members during one of the breaks.
Having played a bit of poker myself over the years, I was intrigued to see a poker party in action. On the afternoon of Martin's birthday, I went along to the private poker club, where he had hired a room, and was pointed in the direction of the outside gardens where I could set up the gazebo over the hog roasting machine and serving station. Roasting a medium-sized hog like this, which weighed around 40 kilos, would take over 4 hours and would provide food for many more than 20 guests, but Martin was happy to take any leftovers home (as he had tried our hog roast Cardiff before and had loved it!)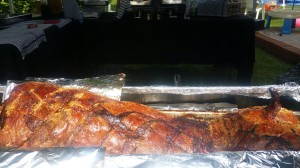 Martin asked us to make hog roast rolls (or 'pigs in buns') for his party, so a few hours later, once the hog was resting before being carved and served, we got to work getting our homemade apple sauce and homemade sage and onion stuffing into dishes and slicing the fresh bread rolls, ready to fill to the brim. We'd brought along condiments, too, as well as plenty of serviettes.
I popped into the private room to let the guests know their food was nearly ready, and watched as the birthday boy went all in against his partner, Denise, and as various others played their hands, too. It was so interesting that I nearly forgot to let them know about dinner! Martin and his guests happily munched away on their lovely pigs in buns and swapped poker stories until it was time for them to go back in and finish the game, and time for us to strip the hog clean of meat for Martin to take home.