Now the clocks have gone back that means darker nights and we do enjoy our evening events, which are just as popular in winter as they are in summer.
On a cold dark night there is nothing nicer than a lovely hog roast Swansea meal! Last Sunday evening we were out late catering for a party held in a pub west from us, we had been there before to cater for a party and the guy who booked us had sampled our food at a friend's event and booked us there on the spot. He was expecting 200 guests and we always bring a bit extra just in case. And the meat of the evening was pig.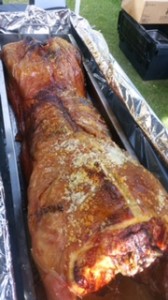 When we arrived we wasted no time getting sorted, we placed the pig on the machine and our waiting staff dressed the tables in clothes and the freshly baked produce we had baked that morning. We placed trays of quiche, sausage rolls, scotch egg and some huge cheese boards and crackers on to the tables. We then chopped an assortment of salad vegetables and placed them in huge bowls and made an assortment of dressings to go over the salads.
The room was starting to fill up with guests and the hog roast Swansea had cooked beautifully, we first removed the crackling sliced it and placed it on the table, our chef set to work in carving the pig and it looks so mesmerising the way he carves. Huge succulent slices of pork so moist and juicy as the guests helped them selves to the food they commented on how delicious the pork was, the guy whose birthday it was couldn't get enough of the crackling! He said it was his favourite food ever and ours was the best he had ever tasted! That made our night. We chatted to the guests who were very impressed with the food and we left a bundle of cards on the tables as we left. We were thanked by the birthday boy who had enjoyed a few glasses of champagne and was in high spirits telling us Hog Roast Swansea are the best caterers ever! We had to agree with him too.