We offer a full range of menus for different kinds of parties and events but often a customer wants to create their own menu, and we're more than happy to help with this if needed. When we met Marion at her friend's hog roast in Tenby a few months ago, she picked our brains about a possible catering event of her own in the summer. As the summer neared, we received a call from her, as she knew she definitely wanted to book our 'pig in a bun' special for her party but said that she would be hiring another catering company to add alternative food options, too. We actually offer much more than just hog roast catering and when we told Marion this, she was clearly shocked. "But you're called a hog roast company!" she exclaimed. We explained all the different kinds of food we can provide – from spit roast to barbecue meats, canapés, fish dishes, veggie options and so much more – and she decided there and then to book just our company to cater her event.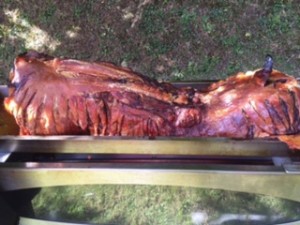 Marion wanted her birthday party menu to feature a hog roast in Tenby as well as a selection of buffet foods such as salads, coleslaw, potato salad and cold meat slices. While she had thought about providing the extras herself, she decided to leave the catering to us, so that she could concentrate on other aspects of the party like the entertainment and chatting to her guests. You can save time, stress and even money by letting us handle the food for your special day, and Marion was more than happy to let us oblige, after seeing our extensive portfolio and reviews. While she had enjoyed our hog roast in Tenby at her friend's party in the past, she was now happy to learn that we are a successful catering company for much more than that, too.
We had a lovely time at Marion's 60th at the weekend and loved seeing the smiles on her face throughout the day. She loved our yummy hog roast rolls but was also more than satisfied with all the other food we made fresh on-site at her house on the day and was relieved when her guests devoured it all, too.