In our line of work, we uphold many responsibilities, importantly satisfying customers with our high quality food. This responsibility was necessary from the very start of the week as we headed down to produce a hog roast in Abergwesyn, for a family celebrating two birthdays, a father's 50th and a son's 20th.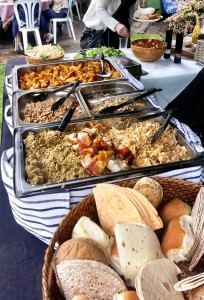 As requested for the party we had a whole variety of food options to prepare. When it came to meat we started with our home bred sensational mouth tingling hog and prime succulent turkey both spit roasted in one of our specialist machines. We also provided our chef's homemade gourmet sausage and mini 8oz burgers, small extra sides to go with the rest of the meal. A vegetarian lasagne was also on our buffet as well as homemade sauces, including our aipple sauce to go with homemade stuffing and crackling, fresh crispy salads of the chef's choice, roasted potatoes with herby butter and freshly baked bread by our very own baker.
Our gazebo was stationed and prepared with decorations outside. This is the area from which we not only prepare and cook the aromatic enchanting food to later be served, but also the area from which we could socialize with guests and get some entertainment from their company. On this occasion there was just shy of 350 guests, so plenty of people to talk to!
Serving time rolled around and we carefully laid out our buffet to catch people's attention in our serving gazebo, we were swarmed by buzzing guests in a great atmosphere who dove straight into the food we prepared and the meat being carved by our chef. They were first enticed by the aroma, then by the taste as they sat down and indulged themselves, and many came back for more until we'd nearly ran out and everyone had no room left! Our birthday hog roast in Abergwesyn had been a hit, and made the day a great success, after the meal we even had a round of applause and a chorus of cheers from the guests, who couldn't have been more impressed. All that was left afterwards was to clean up any mess, collect all our equipment and crockery, pack up and head home.