The leafy roads of Brynmill was once again the destination for Spitting Pig, for a 70th Birthday Party of Mrs Wright. The weather was set to be warm and sunny for the whole day so no need to set up the gazebo, just enjoy the sun. The menu was a free range rare breed pig from our farm, with lamb joints. The pig would be cooked for a total of 12 hours, to get that wonderful pulled pork, moist and tender, crispy crackling complimented by our homemade sage & onion stuffing.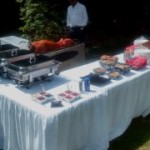 The serve time was 1pm, the pig was cut up and ready to be served. The guests formed an orderly line and it didn't take long before everybody had enjoyed the taste of a hog roast Brynmill or succulent spring  lamb. There was plenty to go around and several of the guests came back for 2nd and even 3rd.
To round off the party there was a series of heart- warming speeches and wishes of Happy Birthday for Mrs Wright.  Spitting Pig  quietly packed up and left the guests to enjoy the birthday celebrations for the remainder of the afternoon.