With a traditional Hog Roast Pembrokeshire hog roast, we can easily help you to satisfy the guests you're inviting to your next party or event, and it's surely something they will remember for a long time to come. Our long-term customers would no doubt testify to this, as they return to us again and again for delicious, homemade food made from fresh, local, high-quality ingredients, prepared, cooked and served by a dedicated team of professionals who care about our customers' wants and needs. You may want a centrepiece hog roast to please most of your guests but you may need an alternative to make sure that any guests with dietary needs are well-fed too, and we can always help you with that regardless of the diet, as long as we have advance notice.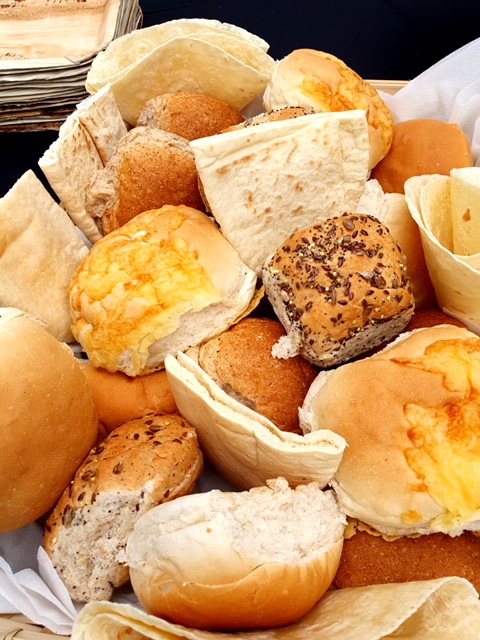 We have lots of options for vegetarians, such as stuffed peppers or mushrooms, mac and cheese or veggie skewers, and we can adapt them for vegans and those on plant-based diets if needed. Plus our Hog Roast Pembrokeshire hog roasts are suitable for those with a gluten intolerance or allergy, including our apple sauce and stuffing, and if you're thinking of having our famous pigs in buns as the main feature of your special occasion, we can bring along gluten-free bread rolls if needed.
For a birthday party that Hog Roast Pembrokeshire catered yesterday, Emma had asked us to serve those amazing pigs in buns of ours, but she was initially worried about what her mum could eat, with her having a gluten intolerance. Once we calmed her fears and told her she could enjoy them just as much as the other guests, the party was booked in and we looked forward to catering it.
Our team arrived at Emma's home early yesterday afternoon and set up in the back garden, and before long we had a medium-sized hog roasting away for hours on end, filling the air with gorgeous smells. Later in the day, we prepared our homemade duo of apple sauce and stuffing, sliced the bread rolls (keeping Emma's mum's ones separate), and by 6pm, we had a great feast of our signature food ready and the guests couldn't wait to dig in.