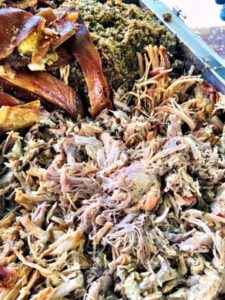 Hog Roast Abergavenny were delighted to be asked to cater in the early evening for a wedding at the Woodland Tipi and Yurts Woodlands Farm in Little Dewchurch, Herefordshire; this was clearly going to be a little different as we would be serving in a tipi!  Hog Roast Abergavenny caters for many different functions; weddings, corporate events, private parties, charity events etc. in a range of different venues and in any environment but a tipi was a first for us and hopefully not the last as the experience was marvellous.
Here at Hog Roast Abergavenny, we clearly understand that a couple's wedding is one of the most important events of their lives and we always ensure that our service is professional, friendly and high quality and with precise attention to detail.  We are aware that there are many good caterers for this type of event but what makes us great, is this meticulous attention to detail and the high quality of our food and service.
Hog Roast Abergavenny has six menus available for wedding events ranging from an entry level option through to more formal options with evening buffet options too and we know that the choice of menu for this type of event is crucial to its success.  For this occasion, the client wanted Menu 1 which is more suited to an informal and relaxed wedding evening reception and includes the roast hog in a roll.
Event planning is a fundamental part of seamless service and we arrived at the venue in good time and liaised with the organisers to discuss the arrangements and began to set up.  Immediate interest was apparent in what we had to offer with many of the guests fascinated by the sight of the hog roasting away and the fabulous, aromatic flavours that were emanating from our roast and from the wide selection of food that we would be serving.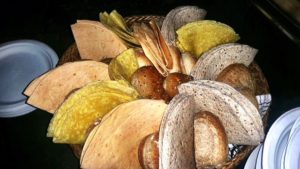 The event ran without any hitch as you would expect and we received many compliments from the guests relating to the high quality of the food and professional service; Hog Roast Abergavenny were very proud to contribute to the success of this event and wish the newlyweds all the best for the future.