Here in the UK, it was recently international women's day, a day where we can celebrate the remarkable achievements of women throughout history and the present day. As you can imagine, there were quite a number of events being held in honour of this day, and the team at Hog Roast Monmouth found themselves catering for a particularly special one. We were first contacted by Carol, the CEO of a media production company. She wanted to mark the day by hosting an elegant dinner party at her exquisite home in the countryside, and so she invited twelve women from her office to join her in celebration.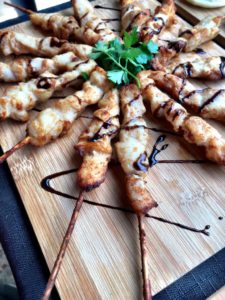 We arrived by twelve noon, in order to get the meat roasting. We slow roast all our meats over the course of several hours to achieve a tender, succulent finish with the crispiest of crackling, and we prepare all of our meals from scratch using only raw, fresh ingredients on site – so you can see the whole cooking process. This means we always arrive at the venue of any event, plenty of hours in advance of the serve time. But whilst the chefs take care of the cooking, our catering assistants will be taking care of other things. Such as, in Carol's case, laying fine tablecloths and gleaming white crockery, and lighting candles and arranging a delicate centre piece table display.
When her guests, all proud, hardworking women of Carol's team, arrived at the venue that night, they were immediately greeted with an array of canapes as an appetiser – Spicy Thai Chicken Kebabs, Grilled Fillet of Beef and the creamy Halloumi Kebabs – as well as a glass of champagne. After a short while once every one had arrived, guests were shown to the table for their starters of the finest Smoked Salmon, accompanied by prawns and avocado, served on a bed of curly endive with a mustard and dill dressing. Their plates were then cleared and after a short while, they were shown to the chef to collect their mains, which were served buffet style. A choice of the spit roasted pig or the local free range spit roasted chicken, accompanied by their own choice of sauce, three different types of salad and seasonal vegetables as well as jacket potatoes, roasted new potatoes in rosemary and garlic or both.
And the sensational food didn't stop coming, as after the wonderfully tasty mains had been enjoyed, the ladies had the option of a fresh fruit salad or a sticky toffee pudding for desserts! At the end of the night, when the guests had moved through to the garden for drinks on the terrace, it was time for our team at Hog Roast Monmouth to quickly tidy away their mess, and leave Carol to enjoy her night with her hardworking team.