A christening is a unique event that occurs early on in the life of your little one and is something that can be fondly remembered for years to come by those in attendance. For this reason, Hog Roast Neath believe it is important that the food you choose on the day is just as special as the day itself and we are firm believers in the fact that this type of catering doesn't need to break the budget.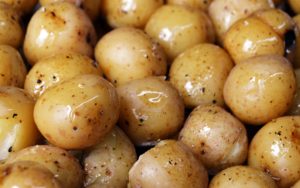 When you hire Hog Roast Neath to do the catering you will get a seamless, stress-free experience. Our style of catering offers a unique perspective on christening catering so that when you look back on your little one's big day you will have fond memories of the food in addition to the ceremony itself.
For baby Madeleine's day, her parents Joanne and Liam had enlisted the help of Hog Roast Neath. After being to several christenings in recent years they told us how they couldn't bare the sight of another soggy buffet and so wanted to make sure they had something special for Madeline. We reassured them that Hog Roast Neath would be out to impress and helped them decided on the ideal menu for them and their guests.
On the day itself, Hog Roast Neath turned up bright and early to get our hog on to roast whilst the ceremony took place in the local church. Catering from the adjoining church hall, we had a couple of hours to prepare and wanted to make sure everything went off without a hitch. Joanne had chosen one of our classic menus; whole roasted hog served up with a range of seasonal roasted vegetables and herby new potatoes, so we had our work cut out for us.
We had just enough time to get everything prepared and as the ceremony ended our Hog Roast Neath chef began carving the tender meat ready for the guests…