In our eyes here at Hog Roast Pontypridd, an event is not complete without our slow roasted food to delight you and your guests! Whether you are planning a birthday celebration, wedding or even corporate event- we are the caterers for you. Our team of professional chefs will work around the clock to provide you with nothing but the most succulent, mouth-watering menus that your guests will be talking about for years to come!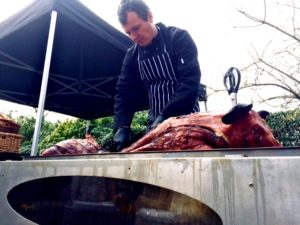 This Saturday we were up and out early with Hog Roast Pontypridd to travel to the home of Athena, who was celebrating her 70th birthday. Before leaving, we checked the weather forecast and remembered to pack our trusty gazebo in case the notorious April showers decided to descend on us (as they usually do!).
When we arrived at Athena's home, we were in awe at the lengths her family had gone to. there wasn't an inch of wall space without a photo or banner and every table was full of cards and presents. Athena was clearly adored by her whole family and so we wanted to make sure we did our bit to show her just how much she is loved.
First things first, our Hog Roast Pontypridd chef carefully prepared the hog for roasting. The skin is skillfully scored before applying sprinklings of sea salt and massaging it into the skin with lots of water. This is how we create that fantastic crackling that Hog Roast Pontypridd are known for. Once the meat is prepared, we load it onto our hog roasting machine and from then on it's simply a case of keeping an eye on the temperate and preparing the accompaniments.
The guest of honour, Athena, arrived bang on schedule and was greeted with a heart-warming rendition of 'Happy Birthday' played on piano by her grandson. As the guests wished Athena a happy birthday we started to carve and serve up our Hog Roast Pontypridd…