When Ryan contacted Hog Roast Port Talbot a few weeks back, he was interested in hiring our catering services for his upcoming 40th birthday celebrations. Having invited forty guests to his milestone birthday, Ryan was thinking of treating his guests of family and friends to one of our traditional centrepiece hog roasts, which he wanted cooking in his own back garden.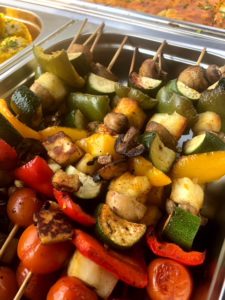 We've spent years ensuring that our customers can have delicious, fresh, homemade food cooked in the location they prefer, and we can even cook indoors if required, as long as there's enough space and ventilation. We can provide the catering for any numbers that you're thinking of, large or small, and you're not limited to just hog roasts as we can even make all kinds of alternative or additional dishes for your party or event.
Once Ryan had booked us in for a hog roast, from which we would make our signature pigs in buns, he let us know he needed a vegetarian option too. We can easily cater all kinds of diets here at Hog Roast Port Talbot and for this party, our chef would whip up our veggie skewers, where we grill tasty chunks of halloumi, mushrooms, tomatoes, peppers, red onion and courgette, and serve with pitta bread and our own Tzatziki dip.
On the day of Ryan's birthday, the sun was shining, the weather was mild and our Hog Roast Port Talbot team members headed to his house to set up our equipment. Once the gazebo and serving tables were up in the large back garden, our chef cracked on with preparing the meat to be roasted. After scoring the meat in diagonal shapes all over, the pig was covered in water, smothered in salt, and then set cooking at a low temperature for hours on end.
Later on in the day, we freshly prepared and grilled the kebabs and then got ready the rest of the pigs in buns ingredients – fresh bread rolls, our own recipe duo of apple sauce and sage and onion stuffing, and a variety of condiments. Finally, the hog had cooked to perfection and the guests arrived to its wondrous aromas and it was time to get the carving knives out.