Bierkeller was the venue Spitting Pig Wales visited this weekend in Cardiff, for a Christmas Promotion promoting Office Parties for the festive season. It all seems rather surreal walking in from a sunny August evening to the sound of Jingle Bells, Jingle Bells, Jingle Bells all the way of what fun it is to ride on a one horse open sleigh.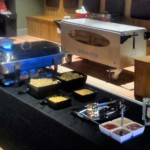 The decoration left nothing to chance, tinsel, Christmas trees everything was in place as the 200 guests walked into the winter wonderland. Spitting Pig Wales had provided one of their finest free range rare breed pigs for the hog roast Pontcanna occasion. The meat was carved to the strong chorus of the German Band. The crisp and golden crackling was crunched to the tapping feet of the jubilant guests, the tender succulent pork of the hog roast Pontcanna, slow roasted for 12 hours, was enjoyed by all. A brave few then ascended to dancing on the tables, encouraged by the German band.
Not a bad night for an August evening, all that was left was for spitting pig to pack up and return home to their farm in Llanfynydd, Carmarthen.