The weekend weather presented a challenge for the Spitting Pig Wales team as they prepared for four hog roast events. Three of these events were wedding, a barbecue & hog roast, a slow southern roast and another hog roast Govilon. The four, a 50th birthday party not too far away. Torrential rain the night before saw a bright start to Saturday morning, with high hopes for a sunny day. The Spitting Pig Wales vans left one by one, each destined for the a busy day, catering for a total of  650 people between them. As each team approached their destination the heavens opens, thunder & lighting, driving rain and howling winds!!  The hog roast Govilon gazebo were quickly erected and the cooking and preparations began for each individual serve time. The storms continued, water flooding off the gazebo sides and running into the inside of the gazebo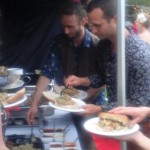 o, undeterred the Spitting Pig Wales staff carried on their preparations until finally everything was prepared and ready to serve.  With perfect timing the wind subsided, the rain ceased and the sun came out to warm the guests as they tucked into their hog roast pork rolls, homemade beef burgers & sausages.
Another successful weekend for Spitting Pig Wales at the start of a very busy season.