Latest figures have shown that today's brides and grooms spend an average of £30,000 on their wedding day – yes, you really did read that right! For many newlyweds-to-be, this crippling expense can put their dreams of a fairytale ceremony on permanent hold, but we're here to tell you that this doesn't have to be the case. Hog Roast Llanrwst offers a selection of bespoke catering packages which aim to meet all wedding styles and budgets and over the years we have had the pleasure of making many betrothed couples very happy.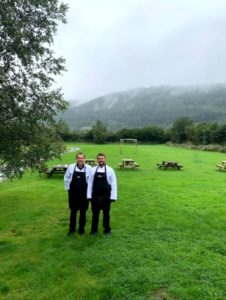 In preparation for their wedding which took place earlier in the month, the Hog Roast Llanrwst team received a booking from Laura and Pete, a couple who had their hearts set on getting married in North Wales – which for them meant travelling nearly four hours from Hull for their nuptials. Our expert catering manager Paul was quickly put in charge of the event and after discussing our extensive options with the pair, they decided that our southern slow roast menu would be the perfect addition to their big day.
On the 14th of August, the catering team made their way to Hafod Farm, a rustic, yet elegant venue where the loved-up couple planned to spend the entirety of their wedding day. Arriving hours in advance of Laura, Pete and their 120 guests, the Hog Roast Llanrwst crew threw themselves into setting up our lightweight equipment and disposable crockery inside the 18th-century farmhouse, which meant all there was left to do was start cooking!
While the succulent meats were sizzling away, guests began arriving for the ceremony and it turns out Laura and Pete weren't the only ones who faced a long journey ahead of the wedding! Friends and family from Hull, North Wales, Italy and even America and Australia all came together to celebrate the couples love.
The day was a huge success and the newlyweds and their guests soon made their way to the buffet table where they were excited to try out our rosemary seasoned spring lamb, free-range chicken with homemade onion gravy and slow roasted sirloin of beef. The side options of Memphis style crunchy coleslaw, Greek salads, corn and potato wedges were also a huge hit and those following plant-based diets couldn't get enough of the grilled vegetable and haloumi skewers.