The Hog Roast Pembroke team had the chance to demonstrate our flexibility as well as our fab food at the wedding reception we were recently asked to cater for! The bride and groom had been planning an outdoor marquee reception but because the weather was so bad, they decided at the last minute to host the entire celebration in the converted barn that was initially just supposed to be used for their evening party.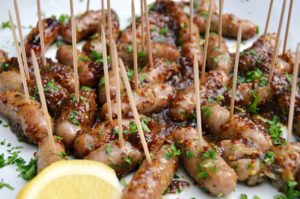 This last minute change of plans didn't catch the Hog Roast Pembroke team off guard though-our highly adaptable team are able to cook up a storm in any environment and we are just as comfortable rustling up fabulous feasts indoors!
Thanks to our multi-functional cooking equipment, we had more than enough space inside the venue to be able to do our thing without getting in anyone else's way and whilst the rain poured down outside, we worked hard throughout the morning to prepare every item of the wedding menu from scratch, using only the best locally sourced ingredients! This included a tempting selection of our individually handcrafted canapes, with a tasty choice of smoked salmon, pate encroute, mini pizzas and gourmet sausages. This was followed by our tasty homemade soup to start, along with an indulgent choice of not one, but  two of our mouth-watering slow-roasted meats- our classic hog roast served with crispy crackling and apple sauce, and free-range chicken served with onion gravy and chipolata stuffing. With an imaginative vegetarian alternative, side dishes and two desserts to prepare as well, we were certainly kept very busy, but we were ready to greet the happy couple and their somewhat damp guests with a welcoming platter of canapes right on cue!
It may have been pouring down, but the weather certainly didn't dampen anyone's spirits! Everyone had a great time, we received great feedback about the food from both our meat eating and vegetarian diners, and despite the last minute change of plans, everything ran like clockwork thanks to the super-efficient members of Hog Roast Pembroke's catering and events teams!