Hog Roast Carmarthen has plenty of options for you to choose from for your event or party, and not just hog roasts, despite our name. We can barbecue you our gourmet sausages and burgers that are 100% beef, serve additional food like salads, a variety of potato dishes and vegetables, add options for guests with dietary requirements or devise an intricate menu featuring several courses as well as a drinks service and welcome canapés. We can serve posh food or simple fare, help you with a formal menu or an informal one, and we even actively encourage you to create your own bespoke menu to suit you.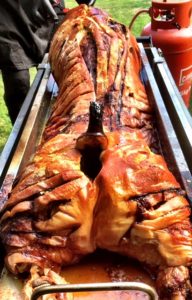 One thing is for certain with Hog Roast Carmarthen and that is that we cook a mean hog roast, and our most popular food catering option has to be our mouth-wateringly delicious hog roast rolls. We call them pigs in buns, and we prepare the locally-sourced meat from scratch, fresh at your venue, and cook it slowly for hours while we watch over it, and then serve at the optimum temperature after it has rested. After slicing off the salty crackling and carving up the juicy meat, we stuff bits of both into bread rolls and wraps, add our own apple sauce and stuffing, and then they are ready for you and your guests to add a bit of sauce to if preferred before devouring.
For Toby's 21st birthday party in the garden of his parents' home yesterday, we were asked to serve our pigs in buns and some fresh salads, so we turned up early in the morning, ready to roast the pig for several hours before serving the food at lunchtime. Hog Roast Carmarthen always comes fully prepared, with a gazebo, serving tables, and our hog roast machine, as well as plenty of napkins and a variety of condiments, and on this day we set everything up with ease, as it was a pleasant day with no wind.
Hours later and the wonderful aromas of our hog roast centrepiece were filling the surroundings, and the sight and smells were clearly tempting the guests as we had several people ask us when it would be ready. Once we had prepared our homemade coleslaw and a tomato and mozzarella salad, sliced the rolls and dished up the sauces, it finally was, and then it was time to fill some hungry tummies.