At this chilly time of year, when you're thinking of hiring caterers for an outdoor party or event, you're likely to be planning on hot food being served. You'll want tasty options made from fresh, wholesome ingredients and ones that don't cost the earth, and for all kinds of food, for both formal and informal occasions, Hog Roast Fishguard is just the ticket.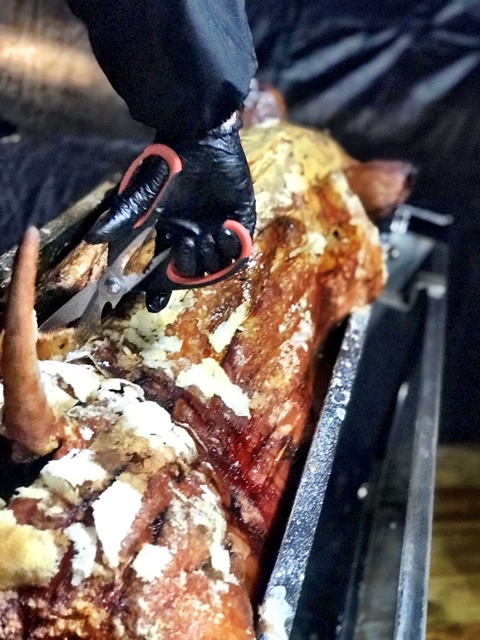 From hog and spit roasts to barbecued or marinated meats, as well as plenty of choice for those with dietary needs, bigger appetites or differing tastes, we really do have something for everyone at all times of the year but now that it already feels like the coldest season of the year, our winter warmer will certainly do wonders to keep everyone toasty. With your choice of meat (such as our famous hog roast, cooked for ages on the day, where the salty crackling is carved away to reveal moist and tender meat), and your choice of seasonal vegetables and a potato dish, all smothered in our delicious homemade onion gravy and accompanied by our all-important, own-recipe apple sauce and stuffing, our winter warmer menu is a real winner regardless of the special occasion you need catering.
When Josie contacted Hog Roast Fishguard about catering her private party, she had heard great things about our winter warmer from a friend and so she wanted to try it out for herself. With seventy guests to feed outside in the cold November air at a local village hall, Josie asked us to provide a hog roast version of this fantastic menu, with the meat and trimmings served together with glazed carrots, Brussels and sweetcorn, as well as our herby new potatoes and onion gravy.
On the day of Josie's party, our Hog Roast Fishguard chef and catering assistants cooked a real treat for everyone, and as the centrepiece star of the do – our famous hog roast – had sizzled away for hours on end, it smelled amazing too. Once everyone had arrived, we got busy serving the guests plenty of hot, scrumptious food and by the end of service, everything had been stripped clean – always a good sign!