It's that time of year again for a local pub football team to put down their pint glasses and don their kits ready for a new season of playing in a local league. After sometimes struggling to get a full team together during the previous season, Dan, who runs the team, wanted to organise an event to drum up more interest in participation from the patrons of the pub. He wanted to offer some decent grub to the existing and prospective new members of the team that was a cut above the usual fare without breaking the bank. After hearing great things about us from a friend who had hired us for an event previously, he got in touch with us here at Hog Roast Tenby and asked us to do the honours!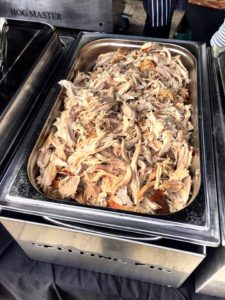 Dan wanted us to provide some of our signature slow roasted pork with crispy crackling and our homemade apple sauce, along with some grilled veggie and halloumi skewers for the meat free option. We arrived on-site around lunch time to allow plenty of time to freshly prepare everything for the 6pm service time. Dan was very impressed with our state of the art hog roast machine and he couldn't wait for everyone to arrive to sample the pork after it had been slowly roasting for several hours!
At 6pm the football team and several new recruits and their families began to arrive and everyone loved gathering around our hog roast machine to watch the meat in the final few minutes of the cooking process through the heat proof glass panel! Everyone's mouths were watering as our enthusiastic chef carved the meat and before too long the football fans were tucking into some hot and hearty hog roast sandwiches, with a handful of our diners opting for the veggie skewers instead.
Whilst everyone was enjoying the Hog Roast Tenby team's superior slow roasted pork, Dan took the opportunity to encourage as many people as possible to sign up for the pub football team with the help of the existing members. Dan was delighted with how well his event went and he was very grateful to the Hog Roast Tenby team providing such great food!