The Spitting Pig Wales Team today travelled to Rosebank guest house for a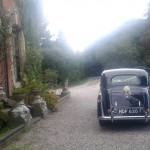 hog roast in Lugwardine, Hereford, for the celebration of Amy & Tony's marriage. The 11 bedroom Rosebank Manor house provided the ideal wedding reception venue. The large Victorian reception room easily accommodated  the 55 guests, with its majestic fireplace, high ceilings and tiled floors all added to the ambience created by the stunning table decorations & candles, carefully  laid out for the celebration of Amy & Tony's marriage.
Spitting Pig Wales had the centre attraction with the hog roast Lugwardine machine, cooking a sumptuous selection of beef in red wine gravy, lamb with Rosemary and pulled pork. These were accompanied with crusty bread rolls, a variety of sauces, homemade stuffing, apple sauce and spicy potato wedges. The vegetarians were treated to veggie skewers with halloumi cheese, pitta bread and tzatziki dip.
All the guests complimented the Spitting pig Team for providing such lovely food for the happy occasion and took their drinks outside for a stroll in the gorgeous grounds of Rosebank Manor gardens.
All that was left to do was for Spitting Pig Wales to quietly pack away and leave the guests to enjoy the sunny afternoon and make the journey back to their farm in Llannfynydd.