When it comes to catering weddings, Hog Roast Newport has many years of experience, both with breakfasts and receptions. Our professional, highly-trained and skilled chefs and catering assistants always go the extra mile to ensure that all of the parties and events that we cover are done so with the best of our abilities, and that our customers' needs and expectations, and those of their guests, are met – if not exceeded.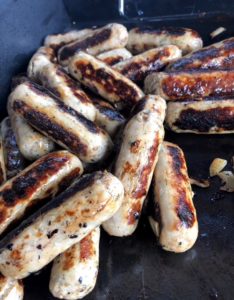 Hog Roast Newport recently had the pleasure of catering Derek and June's pre-wedding breakfast and then the reception later on after the service. We are often asked to cater more than once in one day, and it's never a problem, and whether you are planning a formal or informal affair, with hundreds of guests or just a few, we will do our utmost to make sure that everyone gets to enjoy our food. We cater various special diets, and have done so for a long time now, so when this happy couple asked us to provide options for both carnivores and vegetarians, for both the breakfast service and the dinner service, we gladly let them know all of the available possibilities.
Derek and June decided on a simple albeit tasty breakfast of bacon and sausage barms for most of the fifty guests, with vegetarian sausages barms for the veggies. Later on in the day, we would be preparing and cooking a hog roast from scratch, in order to feed most of the guests our famous pigs in buns for the main course, but not before we had served several handmade canapés. There would be a main course of our lovely veggie skewers served too, and then if anyone had any room left by the end of the evening, we would be serving the couple's own wedding cake with berries, a coulis and fresh cream.
On the morning of the wedding, our Hog Roast Newport chef and team members cooked up a scrumptious breakfast, and then once the guests had headed off to the church service, we cracked on with roasting the hog to perfection. By the time of the teatime reception, the guests returned for a variety of canapés, including some vegetarian ones, and then we got ready to serve the main course to lots of hungry guests and the newly-married bride and groom.