From our moreish pigs in buns to a mouthwatering plated hog roast meal, a serving of canapés, added sides or multiple courses, Hog Roast Neath has a multitude of options to make sure your guests are well-fed with tasty, wholesome food that we make using fresh, local ingredients. Nevertheless, if you are inviting guests who are on special diets, like vegetarian or vegan, you want to ensure that they can enjoy their own food too, and with our various menus and a whole host of alternative dishes, we can make that happen for you.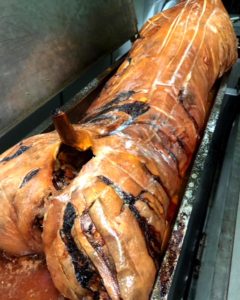 Our Hog Roast Neath professionals have spent many years perfecting our menus and though our hog roast is our signature dish that is loved by many, we also know that variety and choice are needed so that everyone can eat our lovely food. From spit-roasted turkey, chicken, beef or lamb to a barbecue of burgers, sausages and ribs or a selection of marinated meats, your carnivore guests have much to choose from, but then so do vegetarians and vegans, with options like veggie skewers, stuffed veg or mac and cheese (the latter can be made vegan if needed). Whatever special diets you need catering, including gluten-free and dairy-free, just let us know and we will do our utmost to cater everyone you invite to your party or event.
When we were asked to cater one of Lee's 30th birthday parties (as he was having two!) he asked us to cook a scrumptious traditional hog roast to feed most of his friends but he also needed a vegetarian option served too. The hog roast would be prepared fresh and cooked for several hours in order for us to make Hog Roast Neath style pigs in buns for most guests, but we would also grill veggie skewers to serve at the same time.
On the day of the milestone party, our team cooked up a storm and made sure that all the carnivores were treated to our amazing pigs in buns, including a gluten-free guest who we provided suitable bread rolls for, as Lee had let us know in advance, and the vegetarians were just as impressed with their tasty skewers, full of halloumi and fresh veg and served with pitta bread and our own Tzatziki dip.