Hog Roast Chepstow were involved in a celebration of local talent and traditions recently when we were asked to cater at a local book fair, which solely promoted works written by local authors and poets, as well books about the region's history, geography and of course, food. As a nice addition, the organisers decided to call on the culinary talents of local food producers and catering companies as well, and having already secured a local craft ale producer and a purveyor of regional pies and cakes, they thought Hog Roast Chepstow would be the ideal addition to complete the line-up! They loved our ethos of only using fresh, homegrown ingredients in all of our dishes and thought there would be no better way of celebrating the region's culinary accomplishments than by delighting the attendees of the festival with some of our ethically-reared pork, and locally-sourced seasonal vegetables and new potatoes!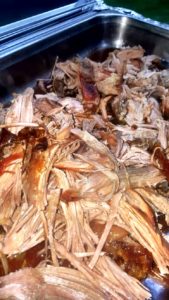 Quite fittingly, we were asked to set up next to the regional recipe book stall, which was run by a nice chap called Glenn, and our friendly team enjoyed chatting with him about the origin of our fabulous ingredients as we tended to the pork and side orders! Glenn enjoyed watching us in action, as did the rest of the stall holders and festival crowd. They especially loved the glass panel on the front of our hog roast machine, which meant they could witness the tantalising spectacle of the meat cooking whilst perusing Glenn's books!
After teasing everyone for long enough, the pork was ready to be carved and served! As usual, the crackling on top gave a satisfying crunch as our chef's carving knife came into contact with it, before gliding smoothly through the tender meat underneath! Unsurprising everyone who came to our serving table wanted a piece of cracking to go with our succulent pork and homemade apple sauce, but thanks to our relaxed buffet-style service, they were then free to choose what accompaniments they wanted with it. We also discreetly served gluten-free bread roles to the handful of our diners who had this requirement, and they were very impressed with how we had considered every detail to make everyone happy!
Hog Roast Chepstow's great locally-sourced food was indeed the ideal catering option for the local book fair and we loved sharing our food with people who are so proud of what their region has to offer!