This summer we have been blessed with amazing weather and soaring temperatures, so it is no surprise that plenty of people have been having BBQs and parties to make the most of it. Last Saturday was no different as we were set to cater for one of our regular customers, Sue's summer party.
With brilliant weather forecast we knew we were in for a good day, however you can never fully trust the British weather, so we made sure to pack our gazebo just incase. Here at Hog Roast Narberth we have no trouble catering whatever the weather, indoors or outdoors, as our trusty machines are fully portable we really can cater to all your needs!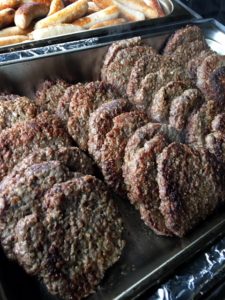 For this party Sue requested a simple BBQ with sausages, burgers, roast chickens and plenty of fresh salads to keep her guests occupied. We readily obliged and prepared the food on site since the weather was so nice this was no trouble. All our burgers and sausages are from farms local to Hog Roast Narberth and of the finest quality as our chef seasons and prepares them himself. For the salads we use only local, fresh produce and on this occasion,  we created a lovely Waldorf salad and Sues favourite our mozzarella and tomato salad.
When serve time approached we had lots of happy guests queuing up, all eager to get a taste of Hog Roast Narberth's BBQ. It was of no surprise to us that there were no leftovers as we always know how to judge the right amount of food for the number of guests, although sometimes we do get asked to make sure there are plenty of leftovers for the guests to enjoy in the following days – we don't blame them!
Just as the last plate of food went out and we were thanked by Sue for another 'exceptional Hog Roast Narberth' the true British summer returned. As the rain started to pour we quickly packed away our equipment and cleaned away all the rubbish so Sue could concentrate on getting her and her guests in out of the rain. Typical British weather, we knew we brought the gazebo for a reason…