If you are looking for an easy way to feed a large amount of people without going over the top on price then we have a fantastic hog roast Coychurch catering option that is perfect for you and will impress all your guests once they have tasted the meat you have cooked to perfection.
We have two different roasting machines to cook the hog on the day of your event, all we ask of you, is to choose which method of roasting you'd prefer.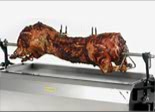 First up, we have the traditional spit roast style machine. The Coychurch pig, which can serve up to one hundred guests, is skewered on a pole and slowly rotated over a dry heat. This slowly cooks the hog, so it's nice and soft and tender on the inside; whilst having a crisp, golden crackling that will have your guests queuing for seconds.
The second machine we have on offer cooks the pig in a tray, which means it soaks up its own, delicious juices; giving it a succulent, juicy texture that will go down a treat if you're planning on hosting a classic, sit-down, roast dinner. Whichever method you prefer, we have a number of ways we can serve it to you. From formal dinners to a time- honoured Coychurch roast pork sandwich with a hearty dollop of apple sauce, you're bound to find something that suits you.
Although preparing and cooking the food on your big day is an important job, our talented chef's work doesn't stop there. They've also compiled a range of menus for you to choose from, so you're not always limited to pork and there's bound to be something for everyone. We can even help you customise your own menu, so the food you're served at your event is totally unique to you. If you think you've got it in you, you can also cater your own event! Yes, we're aware this sounds like a tough job, which is why we'll use our own expertise to make sure you're not just winging it on the day.