Hog Roast Chepstow were delighted to be asked to cater at the Plantation Farmhouse for 60 guests for a wedding service to remember.
Here at Hog Roast Chepstow, we clearly understand that a couple's wedding is one of the most important events of their lives and we always ensure that our service is professional, friendly and high quality and with precise attention to detail. We are aware that there are many good caterers for this type of event but what makes us great, is this meticulous attention to detail and the high quality of our food and service.
Hog Roast Chepstow has six menus available for wedding events ranging from an entry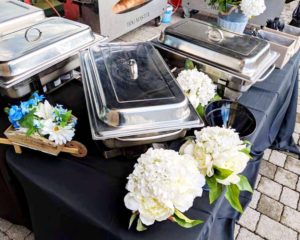 level option through to more formal options with evening buffet options too and we know that the choice of menu for this type of event is crucial to its success. For this occasion, the client wanted the Slow Roasted Hog, three salads with new potatoes in herb butter, two salmon options and for dessert; chocolate torte and lemon tarte. The client also requested that the food be provided on real crockery but as a buffet and with a tea and coffee station for guests to use. One of our strengths which shines out and puts our competitors in the shade is our level of flexibility and, no matter what the requirements are for the client and whether any mixing and matching of the menus is required, we will always endeavour to provide a tailored menu for the needs of every client, budget and taste.
Event planning is a fundamental part of our seamless service and we arrived at the venue in good time and liaised with the organisers to discuss the arrangements and began to set up. The day was in full flow when we arrived and once set up, immediate interest was apparent in what we had to offer with many of the guests fascinated by the sight of the hog roasting away and the fabulous, aromatic flavours that were emanating from our roast and from the wide selection of food that we would be serving.